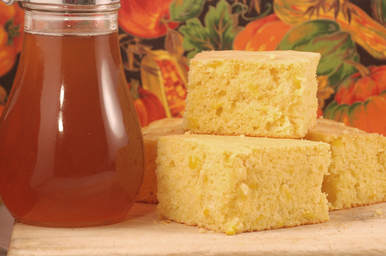 Yesterday (July 16) was National Corn Fritter Day, and I posted a link on Facebook to a
previous post
on
The Cornbread Book
by Jeremy Jackson. I didn't make corn fritters yesterday, mainly because my blood sugar was trending a bit high. But we had corn (off the cob, frozen) for supper last night, and I thought someone out to do something about the leftovers, so I decided to make cornbread, adapting a recipe in the aforementioned book (which you really should buy---it's a gem!) His original recipe uses creamed corn, something we rarely serve here at the abbey, so I adapted it by simply sending the whole kernels through the food processor and then adding them to the liquids. The resulting bread has a more intense corn flavor and doesn't suffer from the "Dry Crumblies" as some cornbread does. Here's my version:
1 cup all-purpose flour
1 cup stone-ground cornmeal
2 teaspoons baking powder
1 teaspoon salt
1 cup whole corn kernels, finely chopped in food processor
1 large egg, lightly beaten
1 cup milk
1/4 cup granulated sugar
2 tablespoons of vegetable oil

Preheat the oven to 425 degrees F., and grease an 8" x 8" baking pan with cooking spray. Sift the flour, cornmeal, baking powder, sugar and salt into a large bowl and stir until well-combined. In a separate bowl, whisk together corn, milk, egg, and oil.

Add the wet ingredients to the dry and stir until just combined. Don't overbeat, but be sure to use a rubber spatula to make sure there are no pockets of dry ingredients along the sides or bottom of the bowl. Pour batter into pan and spread it evenly. Bake for 20 to 25 minutes, until the top begins turn golden brown and the bread pulls away from the sides of the pan slightly. The top of the loaf should spring back when pressed with a fingertip.