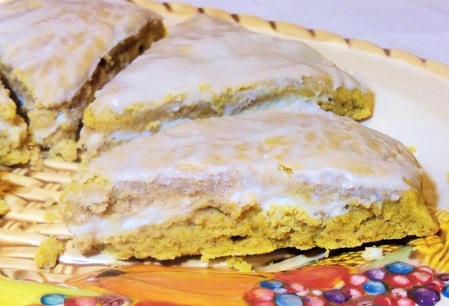 Gluten-free pumpkin
scones with a sweet
cream cheese filling! Not dairy free or vegan, but it's a start. On my way to a decent gluten free pizza crust!
Gluten-Free Pumpkin Scones with Cream Cheese Filling
2 ½ cups all-purpose gluten-free baking mix (I used King Arthur's).
1/3 cup light brown sugar
1 teaspoon ground cinnamon
½ tsp. pumpkin pie spice.
¼ tsp. nutmeg
1 ½ teaspoons baking powder
1/4 teaspoon salt
1 stick cold butter, cut into pieces
1 egg
1/2 cup milk
1/2 cup canned pureed pumpkin (NOT pie filling)
1 teaspoon pure vanilla extract
8 oz. cream cheese, softened
¾ cup powdered sugar, divided
2 Tbs. milk

Preheat oven to 400 degrees F. Line a baking sheet with parchment paper and have one additional sheet of parchment available. Mix the softened cream cheese with ½ cup of powdered sugar and beat until smooth.

In a large bowl, sift together the flour, sugar, spices, baking powder, and salt. Cut the butter into small pieces and blend into the flour mixture with a pastry blender or two knives. The mixture should look like coarse crumbs. In a separate bowl, mix together the milk, egg, pumpkin puree and vanilla. Add the milk mixture to the flour mixture and mix just until the dough comes together. Knead dough gently four or five times while it is still in the bowl.

Remove half of the dough from the bowl and pat the dough into an 8-inch circle in the center of the baking sheet (it helps to butter your hands so the dough will not stick to you). Spread three quarters of the sweetened cream cheese evenly over the circle of dough. Spray the second piece of parchment lightly with cooking spray, and pat the second portion of dough into an 8-inch circle. Carefully flip the second circle of dough on top of the first and peel off the parchment paper.

Using a large rotary pizza cutter, cut dough into 8 wedges. Bake at 400 degrees for 20 minutes, or until round is firm on the edges but still slightly soft in the middle. Cool on a wire rack. Beat the remaining cream cheese with ¼ cup of powdered sugar and the 2 tbs. of milk to make a glaze ( a couple drops of vanilla extract and a pinch of salt doesn't hurt, either!). Spread glaze on the scones and cut apart before serving.

Makes 8 large scones.