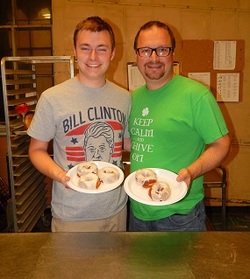 Yesterday was my buddy Ken's birthday (he's in the green shirt---his son Collin had his eyes shut for four successive photos, so I gave up trying!), so I invited him via Facebook to come out for some homemade donuts. He became a fan of my sour cream old fashioned donuts at a football game when Collin was a junior at our Academy. I decided to do a random act of kindness and make fresh donuts to give out to the fans. I made a big batch of sour cream donuts with my vintage Popeil donut maker (read about it
HERE
) and had Collin take them out into the stands. Naturally he took some to his folks, prompting Ken to abandon the game at half time and come into the kitchen for more donuts! He's been a fan ever since.
So after supper I mixed up a batch of my Best Ever Crescent Roll Dough, which is a pretty close approximation to the dough for "Spudnuts." I don't know if you can find Spudnut donut shops around anymore, but they used to be a franchise all over Idaho and the Pacific Northwest---I seem to remember seeing one at Pike's Market in 2004. Anyway, the addition of mashed potatoes or potato flour to a rich sweet dough makes for some mighty fine donut dough. I wrote a blog about it last year, which you can find
HERE
along with a link to the recipe I used. I blogged about donuts the year before, about this same time. Why?
Because tomorrow is National Donut Day. Get out the fryer.