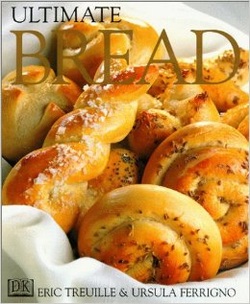 On my last Breadhead Bookshelf blog, I reviewed Bernard Clayton's
The New Complete Book of Bread
, a classic baking book without any photos and few illustrations but literally hundreds of recipes. In this blog, we'll take a look at its polar opposite, another one of my favorites titled
Ultimate Bread
by Eric Treuille and Ursula Ferrigno. This treasure has about only 100 recipes, but the photos by Ian O'Leary are luminous and inspiring.
Ultimate Bread
is published by the Britain's Dorling Kindersley (DK Publishing, 1998) and so the recipes are in both metric and American Standard measurements. Normally that makes me a little nervous, because I've picked up a few cookbooks from the Barnes &Noble bargain shelf that were originally published in Great Britain and the recipes were evidently converted without being tested, based on the disastrous results I got from following them. But that is not the case here, and both the authors are experienced recipe writers who offer accurate measurements and clear (if not always extensive) instructions. The introductory chapters include the standard information on equipment, ingredients, and methods – nothing special here other than a European spin on technique– although the information and photos on the various toppings for bread were something of a revelation for me.
There are a little over 100 recipes here, with a great deal of emphasis on European and ethnic breads. There were a number of flatbreads I hadn't even heard of—Schiacciata, Carta di Musica, Torta al Testa, ekmek, barbari, etc.
Ultimate Bread
also introduced me to fougasse, a traditional French bread formed into a variety of symbolic shapes, and Scottish Baps, both of which have become monastery favorites.
As good as the recipes are, the real reason to obtain a copy of this book for your Breadhead Bookshelf is the inspiration provided by the photos. I don't have an easy way share any of these photos with you since I am working one handed after my surgery, but I recommend that you go to the Google books web site (click
HERE
) so you can scroll through the pages of "The Gallery of Breads" at the beginning of the book. The photos of Ciabatta, Parker House rolls, and Bolo-Rei made me want to try the recipes immediately!
If you are a baker who likes visual inspiration more than detailed instruction, this book is definitely for you. It is easily available online, and is not terribly expensive when purchased used. I recommend buying it in the hardback edition, because you will use this book so much you will want to have a copy that can take a beating in the kitchen.