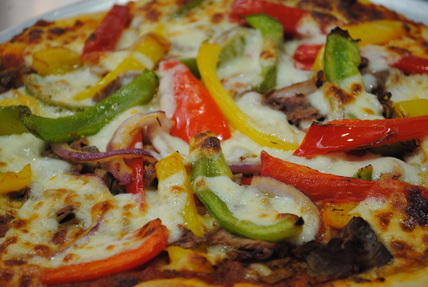 Whenever I host a pizza party, (which I do regularly) one of the most requested pies is the Italian Beef Pizza. People ask me for the recipe all the time, but there's not a special secret spice blend or exotic technique essential for making this crowd-pleaser. The only important thing: quality ingredients.
Home-made dough is a must, of course, preferably a recipe that enjoys a long, slow rise to develop better flavor and texture. If you aren't making your sauce from scratch, I recommend Contadina brand (no, they're not a sponsor---I just prefer their flavor!). Make an effort to find the best Italian beef available, preferably as rare as possible, since it gets cooked a second time on the pizza. My local Hyvee deli has a garlic beef that perfectly flavored and extraordinarily pink, but shop around for what's available in your area.
Two other recommendations. 1). Don't over-
sauté
the peppers and onions or they'll be limp after 10 minutes at 500 degrees--leave a little crunch. 2). Don't omit the bottom layer of smoked mozzarella, because it's essential to the flavors of the pizza. use the more-readily available smoked gouda if you have to.
You can get the full instructions HERE.