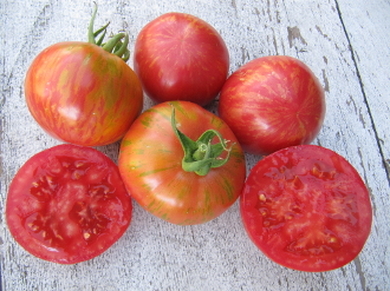 One of our faculty members grows heirloom and hybrid vegetables, and he brought in some Dragon's Eye tomatoes. These hybrids were developed by
Wild Boar Farms
, and you can order the seeds from there. They have a pink-rose color with green stripes that turn gold as they ripen. The flesh is dark and almost meaty, with great flavor.
Last year I came across a recipe for a Tomato Galette which I thought looked yummy, so I gave it a try. The results were nowhere near as pretty as the online photo, but it was tasty---you can find my earlier blog with photos
HERE
. I decided to make a second attempt with the Dragon'e Eye tomatoes, and to make some other adjustments to the recipe based on what ingredients I had on hand: zucchini, onions, some leftover bacon, and gorgonzola instead of chevre.

Wow. Just . . . wow.


I shared it with some of the faculty members, including our super-intendent Dr. Struck. Here's a quote of his reaction:

"That was insane. I'm not a foodie---I'm a trash eater, I'll eat anything. But that made me want to become a foodie. IN-SANE."

I'll take that as a thumbs up.


​If you still have a few heirloom tomatoes in the fridge and some giant zucchini in need of fulfillment, try this galette. The crust is easy to make---be sure to refrigerate it for several hours or even overnight before rolling it out---and constructing the pie is not at all fussy. Use your favorite pie dough recipe if you like (this one has Parmesan and cracked pepper in it) but don't use frozen pie dough, or the angels will weep for you.
Tomato Bacon Galette with Gorgonzola

Crust
1 1/2 cups all-purpose flour
1/2 cup cold unsalted butter, cubed
1/3 cup shredded Parmesan cheese
1 teaspoon cracked black pepper
4 -6 tablespoons ice cold water

Filling
3 large heirloom tomatoes (about 1½ pounds)
3 tablespoons dry bread crumbs
1 cup of quartered zucchini slices
3 or 4 strips of cooked bacon, chopped
1/2 cup thinly sliced white onion
4 ounces gorgonzola, crumbled

1 egg, lightly beaten
1 tablespoon water

Place flour in a food processor with butter and pulse until pieces are pea-sized (You can also do this by hand with a pastry blender). Stir in Parmesan and cracked pepper. Place mixture in a medium size bowl and stir in the ice water with a fork, about a tablespoon at a time, until the dough is moistened and can be formed into a ball. Flatten dough into a disk, wrap with plastic wrap and chill for 2 hours---I let mine chill overnight.

Core the tomatoes and slice about 1/4 inch. Arrange slices on a wire rack over a baking pan or paper towels. Place a layer of paper towels over the top to absorb moisture—when the towels become soaked through, replace them. Repeat as needed for 30 to 45 minutes. The idea is to remove some of the excess moisture so you don't get a soggy pie.

Preheat oven to 375 degrees . On a lightly floured surface, roll dough to a 13" circle. Transfer it to a large pizza pan or baking sheet lightly coated with pan spray. Spread the bread crumbs on pastry evenly, leaving about a 1-inch border. Layer zucchini, tomatoes, and onions on the crust, then sprinkle with bacon and gorgonzola. Fold the edge of the crust over the filling, pleating as necessary. Combine egg and 1 tablespoon water and brush with a soft pastry brush over the outer crust.

Bake for 35 to 40 minutes or until crust is evenly browned and crisp. Can be served warm or at room temperature.