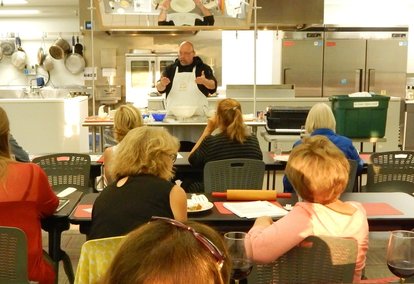 Tuesday night I had the pleasure of presenting a bread demo at
Operation Food Search
in St. Louis. They have a brand new demonstration/teaching kitchen which was a pleasure to work in. The money raised by the event is going to fund a cooking class for food insecure people, and the participants will get both groceries and cooking equipment to take home. The presentation I gave was similar to the one I gave at Missouri Botanical Gardens this past weekend, featuring a homemade multi-grain baking mix.
Since I gave away a large portion of my supply of door prizes (for example, you can see a restored vintage rolling pin in the photo above) I decided to find an antique mall to explore. Google directed me to South County Antique Mall (
13208 Tesson Ferry Rd) and further assisted me in discovering The Ex Cop Donut Shop (
4584 Telegraph Road)
in Oakville. Frank Loforte and his wife Linda are both ex-cops who decided to open the shop about seven years ago---among other reasons, because "donuts don't shoot at you." Since then they have become a popular neighborhood destination as well as the donut supplier for Dierberg's and dozens of local gas stations (and they have a unique delivery van!). You can read their full story in the articles from Riverfront Times and St. Louis Magazine. After trying their apple fritter and seeing the cookie-topped varieties, I'm sure I'll be back.
Later at the Cardinals game I discovered that they now have a mini donut stand on the upper concourse behind section 450. They use an automatic machine like the one I ran at Illinois Wesleyan back on college---we called it the Dono-Robo. Fresh out of the oil and sprinkled with powdered sugar, these little gems are a genuine treat. If you smile and talk nice to the ladies behind the counter, they will leave yours in a little longer in the hot oil so they come out crispy on the edges). At least that worked for me with Kim and Kimberly last night (and a shout out to Amber, who had the night off!).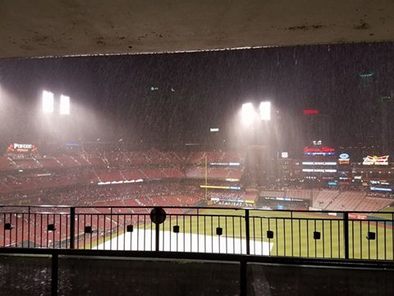 Unfortunately there was a rain delay around the 7th and the Cards lost to the Brewers 7-6. I'm going to tonight's game as well, so I'm hoping for a better result. I suspect that no matter where my seats are, I'll take a stroll along the upper concourse behind section 450. I you ever decide to go there, too, tell them Fr. Dom sent you.