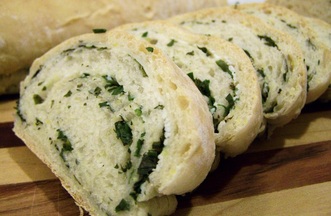 Anyone familiar with this website will recognize the bread pictured at the right as the header photo from my home page. It's Italian Herbal Swirl Bread, featured in my book Bake and Be Blessed. It occurred today that I've never posted a recipe for it. Since we're coming to the end of summer and it's time to use up all those fragrant herbs growing rampant in the abbey kitchen garden, I figured I'd share the recipe this week.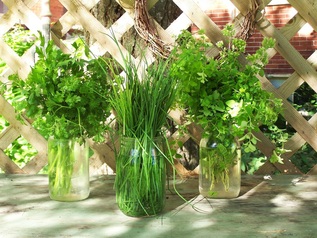 Use whatever fresh herbs you have on hand, even if they aren't Italian. Just go easy on the rosemary and the sage---a little goes a long way---and remember that the leaves should be loosely packed when measured. If you try a different combination of herbs you really like, be sure to add a comment to this post, or better yet, send me a picture for the Breadhead Gallery!
Italian Herbal Swirl

Dough
2 cups warm water ¼ cup olive oil
2 pkg. dry yeast ½ cup stone ground cornmeal
1 tsp. salt 5 to 5 ½ cups bread flour

Filling
1 cup ricotta cheese ¼ cup fresh oregano leaves
½ cup fresh parsley leaves ½ cup fresh basil leaves
1 cup snipped chives salt and pepper

NOTE: All herbs should be loosely packed when measured.

Put water into a large bowl. Add yeast, stir to dissolve. Add salt, oil and cornmeal and beat well. Add 4 cups of flour, one cup at a time, mixing thoroughly each time until flour is thoroughly incorporated and beat well. Work in enough of remaining flour to form a soft dough. Knead for 6 to 8 minutes. Place in large bowl and cover with a dish towel. Let rise in a warm place free from drafts for about one hour, or until doubled in volume.

Coarsely chop parsley, oregano and basil leaves and toss together with the chives until mixed. Punch dough down and knead briefly. Divide in half, and roll each half into a rectangle 12' wide and 14" high. Spread ½ cup of ricotta evenly over each half of dough and sprinkle on chopped herbs. Sprinkle lightly with salt and pepper. Roll up jellyroll style and place seam side down on parchment on an 11" x 15" baking sheet. Cover with a dry towel and let rise until nearly doubled, about 30 minutes. Make 5 diagonal slashes with a sharp knife or razor blade on the top of each loaf. Bake at 400 degrees F. for 15 to 20 minutes. Bread is done when lightly browned and sounds hollow when tapped. Cool on racks.