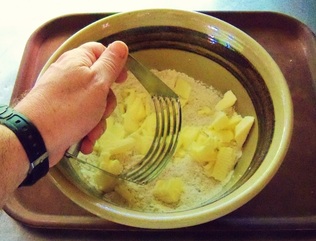 Although my mother had pancake mix and instant potatoes in the cupboard when I was growing up, I don't recall her keeping Bisquick or Jiffy baking mix around. I must confess I have never used a baking mix until just a few weeks ago when I was finishing up my next book project (Baking Secrets from the Bread Monk) and decided to include a recipe for a homemade version of a homemade "Bisquick-like-baking-mix". Since then I've used it for pancakes, cheddar drop biscuits and shortcake with excellent results. The one in the book uses all-purpose flour alone, but here I've added some whole grains, mostly because that's how I like my waffles!

If you already use baking mixes, you might be surprised to see that this version requires refrigeration, but you might be equally surprised to discover that the Bisquick package also recommends that you refrigerate their product after opening. But most baking mixes use shortening and have a number of preservatives and therefore are more "shelf-stable" as they say in the food biz. My version has no preservatives and uses butter (far fewer trans fats), which with the addition of whole grains makes it a healthier alternative. You can use it one-to-one in any recipe that calls for baking mix. Six cups of total of the different flours may seem like a lot, but you'll go through it in no time, since you can use it for pancakes, waffles, muffins, coffeecakes, biscuits and even scones. Recipes abound on the internet, so mix up a batch of multigrain goodness and try a few out.

Multigrain Baking Mix
3 cups all-purpose flour
1½ cups whole wheat flour
¾ cup quick cooking oatmeal
½ cup yellow cornmeal
¼ cup milled flaxseed
3 tablespoons baking powder
1 tablespoon salt
½ cup (1 stick) cold unsalted butter, cut into slices

Place dry ingredients into food processor and process until thoroughly mixed. Add butter and pulse until well blended. You can also cut in the butter with a handheld pastry blender, although that takes a while longer. Store in an airtight container in the refrigerator up to 6 weeks (depending upon how fresh your butter is). If you use salted butter because that's all you have, reduce the salt in the recipe by a half teaspoon,
ADDENDUM 10/13/16
Since making my most recent batch of this baking mix, I have made muffins and biscuits with ordinary recipes off the website of Betty Crocker (the manufacturer of Bisquick) and got lovely results.