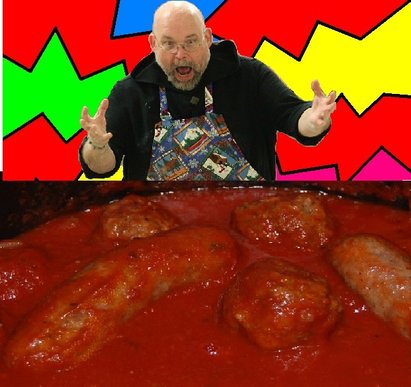 If it weren't for bacon, burgers, meatballs and sausage, I might be able to live as a vegetarian. For the most part, I can live without steak, I'm not fond of pork chops, not even fried chicken holds much appeal for me. But sausage . . . . . mmmmmm. However, I am rather particular about the exact flavor of sausage depending upon whether it is served at breakfast, as an accompaniment to pasta in link or in sliced form, or crumbled on a pizza.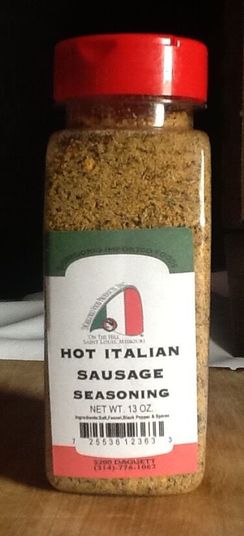 My first cookbook,
Breaking Bread with Father Dominic
(1999), included a recipe for Italian sausage for pizza, one that uses half lean pork and half ground turkey. I include it below, in spite of the fact that I rarely make it any more, because I discovered a Hot Sausage spice blend that is just as good. It's not a national brand---you can only get it at
DiGregorio's

on the Hill in St. Louis, but fortunately they will ship it to you, along with any number of other authentic Italian foods you might not be able to obtain in your locality. I like their Pizza Sprinkle, too, and their spice blend for olive oil for dipping your bread into, and the sun dried tomatoes, and the nice selection of Chianti and other Sangiovese-style wines. (I hasten to note that I haven't received any compensation from DiGregorio's---I just like their shop a lot!) As for the sausage seasoning, 3 to 4 teaspoons of seasoning mixed with a pound of ground pork butt yields a robust sausage with plenty of flavor and just enough heat. But until you can get your own jar, here's my recipe. Note: for link sausages, I recommend using all ground pork, but this version works great for pizza sausage.
Fr. Dom's Italian Pizza Sausage
Mix together until well blended:
1 lb. ground pork
1 lb. ground turkey
1 Tbs. Italian herb blend
1 Tbs. garlic powder
1 Tbs. fennel seed
2 tsp. ground black pepper
2 tsp. salt
1 tsp. paprika
1 tsp crushed red pepper
And as long as we're at it, here's another reduced fat sausage recipe, one for breakfast sausage that I make regularly. I usually mix it up, form it into patties on a cookie sheet lined with parchment and bake them at 350° F. in a convection oven for 7 or 8 minutes. Many websites say 450° F. for 10 minutes, then turn them over, rotate the pan and bake for another 10. I can't imagine they would take that long at that temp---maybe if they were frozen. The main issue is, the interior temperature of the patties should be 165° F., but don't let them get too much above that or they get dry and tough (reduced fat, remember?) After they cool, I wrap them in cling wrap, two at a time, and then freeze them in a larger zipper bag. Handy single servings for breakfasts or mid-afternoon snacks.
Reduced Fat Breakfast Sausage
Mix together until well blended:
1 lb. ground pork
1 lb. ground turkey
2 tsp. dried rubbed sage
2 tsp. salt (perhaps more to taste)
1 to 1-1/2 tsp. ground black pepper
1 to 2 tsp. garlic powder
1/2 tsp. dried marjoram
1/4 tsp. crushed red pepper
​