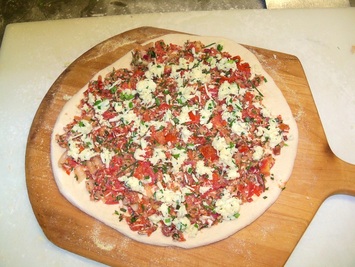 Pizza night with the new crop of Stage Rats last night, and home grown tomatoes were the stars of the night. We made the four cheese tomato top and a bruschetta pizza (left) that had terrific flavor. I was a little short on flour when I made the dough, so it was wetter than usual, more like Italian style dough than my usual American, but the results were excellent.
As usual, I made more dough than I needed so I could make Magic Bread. I don't think I've blogged about this before, and I'm going to give you a bonus by printing the entire section on Magic Bread from my book Thursday Night Pizza (Reedy Press, 2010):
One Thursday night I had about a pound and a half of dough leftover and didn't feel like making par-bakes, so I thought I'd just make a large round loaf of bread to serve at breakfast. I formed the dough into a smooth round and set it on a pizza peel well-dusted with cornmeal. It rose while I cleaned the kitchen and my students did the dishes, and then I slid it onto the pizza stone in the oven. Not wanting the oven quite so hot, I turned the temperature down from 500˚ to 375˚ F.

And promptly forgot completely all about it.

As Divine Providence would have it, however, some helpful Stage Rat came along a minute later and saw the oven had been left on, and helpfully turned it off. The students all went home with leftovers for their parents, and I went to bed. The next morning at about 5 a.m. I awoke out of a deep sleep with the nagging feeling I had forgotten something. The big loaf!

I dressed quickly and ran down to the kitchen, half expecting it to find it enveloped in smoke or completely in flames. To my surprise, no smoke alarms, no fire trucks. With fear and trembling I opened the door to the oven . . .discovered a perfectly baked, slightly crusty loaf of bread that was still warm. I wasn't just surprised, I was stunned. I expected disaster and got a miracle instead. It was like being a sorcerer's apprentice who makes a spell work by accident.

Since then, I have managed to work this spell dozens of times, and it reliably transforms leftovers into breakfast without fail. My fellow monks, like any good audience, express amazement at the trick. "This is still warm!" they marvel as they cut thick slices and slather them with butter for breakfast; "What time did you get up to make this?" But a magician never reveals his secrets. I just smile and say, "I just took this out of the oven."

I also like the fact that the Magic Bread is an efficient use of energy and time as well. Your oven is already at 500˚--why waste all that heat? The loaf rises quietly out of the way while you're cleaning up, it goes into the oven, and you've already started breakfast before you go to bed.

Since you, dear reader and pizza lover, are a fellow magician, I'll share a few secrets to the trick, as a professional courtesy. First off, you have to have at least 20 ounces of dough, about a pound and a quarter, and always under two pounds. Any less than 20 ounces and the bread will begin to dry out in the interior and not just on the crusty outside; any more than two pounds and it won't bake in the middle. It's worth it to make a double batch of dough at the start and plan for leftovers.

Secondly, the dough may be a little sluggish to rise if it's already been through two or three risings, so the finished loaf can be a bit dense. That, however, has never prevented my fellow monks from devouring every crumb the next day. Remember, by the time the Magic Bread comes out of the oven, it's monastic-fast-and-abstinence Friday—toast is all we're going to get, so it might as well be made with a hearty homemade bread!

I've never made the Magic Bread (or pizza, for that matter) without a pizza stone, which retains the heat of the oven for a long time. So I don't know if this would work on a baking sheet or metal pizza pan. Also, I make pizzas as a night time snack rather than at suppertime, so my Magic Bread goes in the oven about 10 p.m. If yours goes in at 8:00 p.m., I'm not sure if you'll get the same results. I do know that as long as you have a pizza stone to bake on, the type of oven (gas, electric, commercial, etc.) doesn't seem to matter.

Lastly, the Magic Bread has a tendency to split while baking because the initial temperature is so high, so a couple of slashes on the top with a sharp knife before it goes in the oven might not be amiss. But be warned—if you let the dough rise too long , the dough will completely deflate when you slash it, never to rise again. So let the dough rise until nearly doubled in bulk but no more. If it's gone farther, just put it in the oven without the slashes and take your chances.