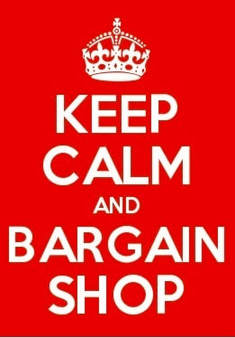 Regular readers of this blog know that I am an incurable shopper at thrift stores, garage sales, and flea markets. I have found a number of genuine treasures for myself (my most recent being a Wusthoff chef's knife for 50 cents!) but mostly I'm shopping for vintage or unusual kitchen items to give away as door prizes at my bread demos. At a recent pizza demo I gave away three pizza stones and a brand new pasta machine imported from Italy, and I spent less than a total of $20 for them. When I know I'm going to demonstrate particular breads or techniques, I keep an eye out for items that will go with that theme.
Twice last month I gave a presentation on
homemade multigrain baking mix
and I'll be doing the same demo later in the year, so I've been on the lookout for vintage biscuit cutters, rolling pins and gently used-waffle irons. You might be surprised how many of the latter show up at Goodwill and Salvation Army (almost as often as those
canape molds
from Pampered Chef) and last week I came across a
Frozen-
themed waffle iron that makes waffles in the shape of Olaf the Snowman. It was a whopping $4.99, so I bought it eagerly, well aware that often times these sort of trendy kitchen implements and appliances are heavy on licensing and light on actual usefulness.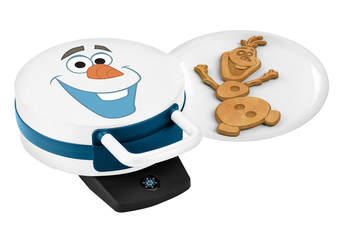 However, I was delighted to discover that this waffle iron worked pretty well. Even before I got it back to my kitchen I realized that it would be difficult to clean, so I picked up a color-coordinated scrub brush at the Dollar Store on the way home. I also knew that it would be easier to dispense the waffle batter using a squeeze bottle, so I got one out from the storage room. I made a quick batch of waffle batter and put it in the squeeze bottle, heated up the iron, and then got to work. As you can see, the waffle iron makes all the parts of Olaf individually, so you can assemble him on the plate. A batch of batter with two cups of Bisquick makes EIGHT of these waffles, so you might consider dividing the recipe in half unless you have a large family or run a daycare. The surface of the iron is completely non-stick, but the waffles are hard to remove if you don't let them cook long enough. I wait until the steam stops coming out of the sides---the blue snowflake indicator light just tells you that the iron is on, not when it's hot enough. It's best to fill the sections from largest to smallest (lower body, head, middle body, stick arms) so the arms don't over cook.
There are surprising number of novelty waffle designs out there: Mickey Mouse, Captain America's shield, Hello Kitty, the Star Wars death star, even one that makes a wide waffle shaped like a computer keyboard. If any of them show up at a local flea market or yard sale, I'll probably bring it home and give it a try. But I'm especially looking forward to a future bread demo when I can give this treasure to a mom with Frozen-obsessed daughters---I'll throw in the squeeze bottle and the scrub brush, too. Sometimes people express surprise that I can give away such wonderful kitchen items at my appearances, but when you're a monk who is supposed to remain unattached to material possessions, it's best just to "Let It Go."