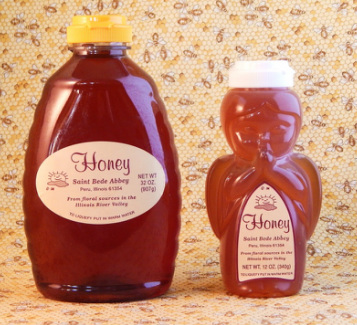 September is National Honey Month, and so I'm celebrating by featuring my favorite honey recipes on the Bread Blog. Unfortunately, this winter was so harsh that at the abbey we lost all of our bee colonies except one, which we have been nursing back to health. We are blessed to have the assistance of one of our alumni who is going to give us several colonies next year and has also shared a portion of his honey harvest with us.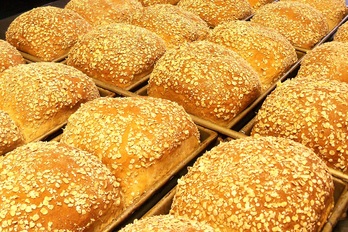 Honey oatmeal bread is my number one most-requested recipe, both by Breadheads and by the monks of Saint Bede. I make it in huge batches for bake sales and it sells out in minutes. I've shared the recipe several times on the site, but click
HERE
if you haven't made it in awhile or are still waiting to try it. Just be aware that the dough is VERY sticky because of the combination of honey and oatmeal, so don't be alarmed if you don't get the smooth and elastic qualities of regular white bread. Leave it sticky and soft rather than adding too much flour. Remember too that multigrain breads like this should be baked to a slightly higher temperature---about 200 degrees F.---or they can be doughy in the middle.
I'll be posting plenty more honey recipes this month, so keep checking in!