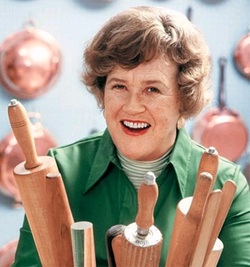 Andy Greenwald recently wrote an insightful online article about the trends that led to what he considers the current dismal state of cooking shows. He observes:
"Fueled by the insatiable advertising needs of the Food Network and a viewing public suddenly interested in distinguishing deglazing from deveining, the staid format established by Julia Child and Jacques Pepin was chucked into the garbage like spoiled milk. It was no longer enough to stand behind a stove top and instruct. The new goal was to entertain. Chefs were required to prep themselves right alongside their mise en place, to garnish their dishes not with parsley but with personality."


As someone who had to be very much aware of his TV persona during my three seasons of Breaking Bread, I certainly agree with this observation, although I don't think necessarily resulted in bad television. Yes, there are characters on cooking shows who are becoming increasingly cartoonish---Paula Deen and Buddy Valastro come to mind---as happened to Emeril Legasse around 2005. When you play a sitcom caricature of yourself, your career has jumped the shark, or at the very least your credibility as a serious chef is questionable. But chefs like Ina Garten and Giada De Laurentiis demonstrate that "quirky" and "outrageous" and "LOUD" are not the only watchwords for success. I think Aaron Sanchez is terrific, but he's underutilized both on
Chefs vs City
and
Heat Seekers
. The latter show is dull, because you can't really see how hot that dish is except by the endless groans, weeping and sweating of the hosts, week after week after week. The problem I have with
Chefs vs City
is that, like the bulk of night-time food TV, it's a competition.
I don't know which network executives decided that putting
The Galloping Gourmet
,
Beat the Clock
and
Let's Make a Deal
into the TV food processor would result in great entertainment, but I hope they don't get any other ideas soon. I know that the movement from "cooking shows" to "food TV" reflects a shift in audience tastes, but Food Network programing has also been a catalyst in that very shift. Don't get me wrong---I love watching cake competitions and have enjoyed some of the episodes of
Top Chef Masters
and
Sweet Genius.
But for the most part, I don't enjoy seeing people struggling with manufactured obstacles and mismatched ingredients with a clock ticking like a time bomb on the back wall of the studio. Most of all, I don't like watching people
run
in the kitchen. I suppose some viewers might take a perverse satisfaction in seeing fancy-schmancy chefs in double-breasted jackets scurrying around in a sweaty panic, but I just feel sorry for them---like I want to step in and say. "Calm down--let me chop that bok choy for you."
Then there's the whole concept of "winner and losers" that has been a part of American culture since competing European monarchs first started sending ships westward across the Atlantic. Do I really need to watch falure after failure sent to "pack their knives" in order to appreciate someone's culinary expertise? Cooking competitions are a good enough surrogate for people who don't enjoy sports; we all like having someone to root for, or just as importantly someone to be
against.
It makes for interesting Tweets and postings on Facebook, if that's your primary means of social interaction. But if I want to connect with fellow foodies, I'd just as soon invite them to the abbey kitchen to bake
with
me, rather than choose sides in the
Sugar Dome
.
My aversion to rushed and stressful cooking is at least in part based on the fact that my primary work in the kitchen is with yeast breads, which for the most part refuse to be rushed. I know that the Quick Rise Method (first proposed in a Farm Journal cookbook in the 60's) and its attendant specialty fast-rising yeasts continue to be popular and profitable, and I've used Fleischmann's RapidRise Yeast a time or two with good results. But for the most part, I'm a proponent of the slow rise method championed by Peter Reinhart in
Brother Juniper's Bread Book: Slow Rise as Method and Metaphor
(check it out on Amazon
HERE
). I approach baking as a form of relaxation, an opportunity for reflection when I'm alone and re-connection when I'm with friends. And there's something wonderful about a cooking project that can be virtually ignored for over an hour, while the dough rises mysteriously and majestically in a stoneware bowl hidden beneath a linen towel.
My friends at
Back in the Day Bakery
understand this, which shows that even a profitable commercial venture doesn't have to be a madhouse in the back room. Their motto is "Slow Down and Taste the Sweet Life" and it's "not just a tag line, but a belief tha good food should nourish the body and soul." Cheryl and Griffith Day run this neighborhood bakeshop where all of the products are made in small batches by hand, with an emphasis on quality, local ingredients. I especially appreciate their love for sourcream-based coffee cakes, which I happen to share! (Full disclosure---they sent me a copy of their cookbook after we "met" on Twitter, and I responded in kind).
Andy Greenwald's article is worth reading; you'll find it
HERE
. After you read it you might look at food television a little differently, and perhaps become a little choosier about which shows you watch. Better still, it might make you switch off the TV all together, get out grandma's cookbook, and make her raisin bread recipe to share with your family.