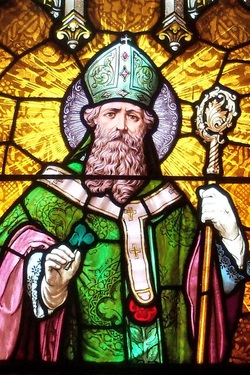 St. Patrick's Day is this Saturday, so I thought I'd post a classic Irish Soda Bread recipe from the second season of Breaking Bread with Father Dominic.
Irish Soda Bread
4 cups all-purpose flour
1 tsp. baking soda
1/2 tsp. salt
1 1/4 to 1 1/2 cups buttermilk
Position oven rack in the center of the oven and preheat oven to 400 degrees F. Sift flour, baking soda and salt into a medium mixing bowl and stir to combine completely. Make a well in the center and pour in most of the buttermilk. Stir, adding the remaining buttermilk as needed to make a loose dough. Turn dough out onto a ightly flour surface and knead lightly, just enough to make the dough hold together. Place doigh on a lightly greased baking sheet and form into a flattened round, about 1 to 1 1/2 inches thick. Cut a cross in the center of the tops using a sharp knife dipped in flour. Bake 45 to 50 minutes, or until loaf sounds hollow when tapped on both top and bottom. Remove from pan and transfer to a wire rack. Cover with a clean, dry towel and let cool slowly.

Note: The flattened shape keeps this bread from being doughy in the center, and the cross cut in the top keeps it from cracking during baking. I've heard people say that you cut the cross to let the devil out, but how would the devil get into your buttermilk anyway?

Check back later this week for my mother's version of soda bread and a more elegant version of this recipe that can be served with a nice fish dinner.