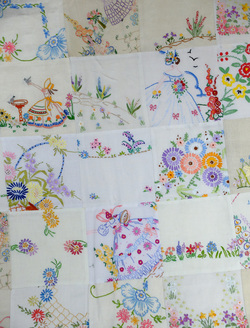 Pinterest is one of my favorite social media sites, not only for bread recipes (although that is reason enough to register!) but also for craft and DIY projects as well as woodworking, as I wrote in a
previous Bread Blog
. Some time ago I came across a pin of this lovely quilt made with squares cut from vintage dresser scarves and embroidered pillow cases. If you're interested in the quilter's story and want to see more pictures of her exquisite work, you can find her blog
HERE
. Regular readers of this Bread Blog know that I spend a lot of time in antique malls and thrift shops, and I regularly have come across antique and vintage embroidered linens, often with a rip or a stain which might keep them from display---but what good are they kept languishing in a drawer? I thought this quilt was a glorious way to upcycle them.
I've studiously avoided quilting for decades, if for no other reason than I know that once you've been stung by the quilting bee there is no turning back. There is ample evidence of this in my mother's home: venturing into her quilting fabric stash in the sewing room closet requires a life line and signal flares to find your way out. Just about the last thing I need is another hobby which requires ample storage space. But this quilt proved too much of an inspiration---or was it temptation? In any case, I knew I didn't have the skills or the time to create an entire queen size quilt. But a little bread quilt to cover the dough while it's rising? That I could manage.
I collected pieces over the course of several months, never paying more than $4. There were some glorious embroidered pillowcases that went for upwards of $15, but my thrifty monastic heart couldn't bear to spend that much. I looked for signs which read "50% off everything in booth" and scoured the piles of linens at Goodwill and the Salvation Army. Soon I had a tote bag full, which I then washed in hot water with OxiClean and ironed carefully.
I cut a 4.5" square out of plexiglas to use as a template so I could actually see what I was cutting and used a small rotary cutter to get good clean edges. I won't bore you with the details of my stitching adventures, but let me say that I made a few mistakes along the way and had what my Grandma Tootsie used to call "a rippin' good time"! I used one of her damask napkins as a backing but without any batting---I didn't want the piece to be too heavy. And may I add that whoever invented the technique known as "stitch in the ditch" obviously did not wear bifocals.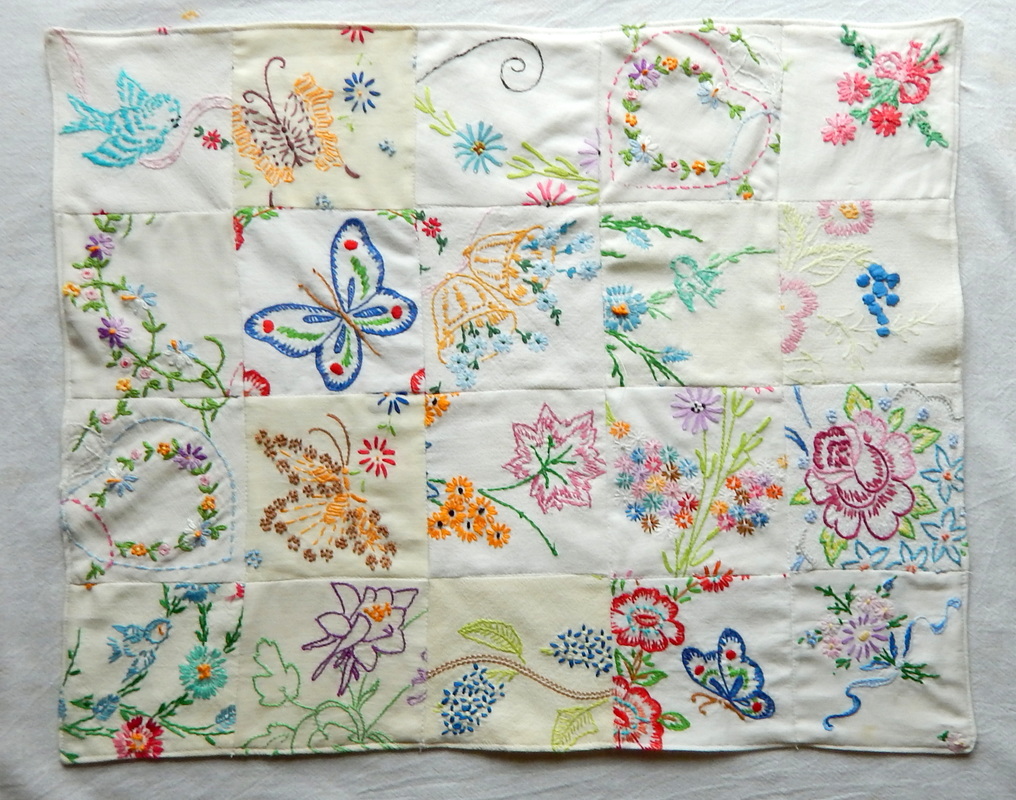 So here is the finished product, puckers and all. It has any number of technical and design flaws and wouldn't take any prizes at the county fair---but I couldn't be happier with it! I'm sure I'll be making more--my mother gave me some of Grandma Tootsie's embroidered linens, which means I know what my sisters are getting for Christmas this year. I figured I'd work out the kinks on this one before I used the family heirlooms. I finished the this morning and went straight to the kitchen to make a batch of white bread so I could put it to use.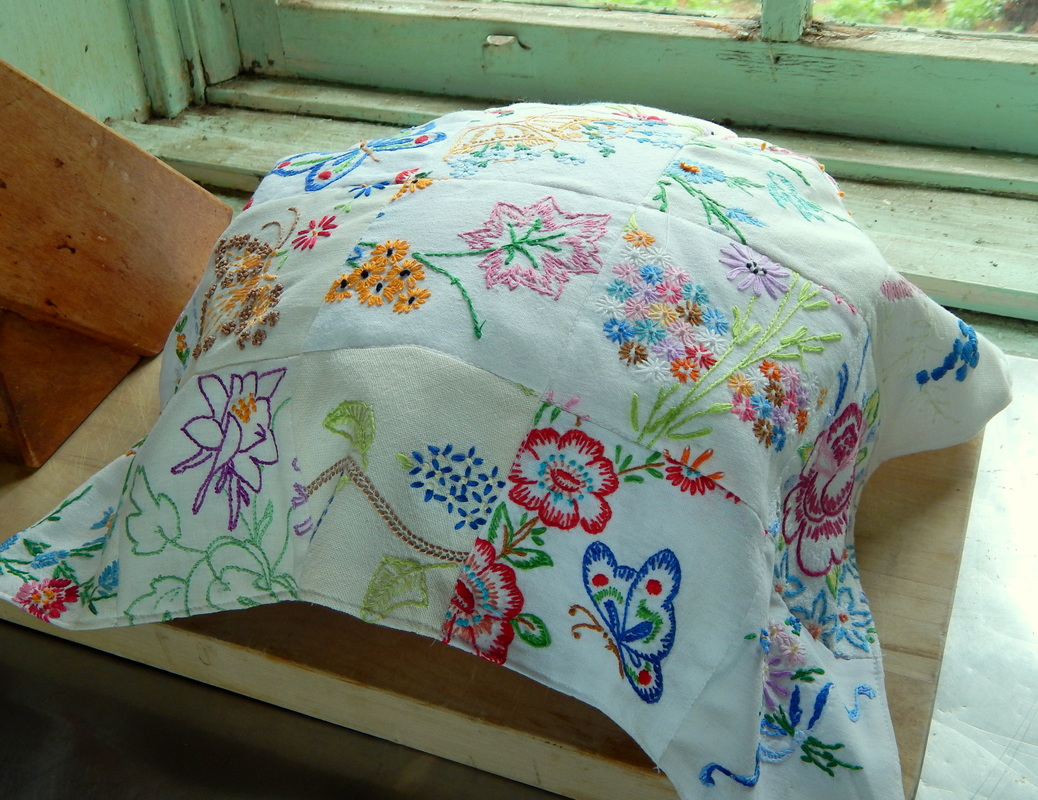 I've always been a firm believer that having beautiful and meaningful tools in the kitchen makes the act of baking more meaningful as well. The dough whisk my mom bought for 50¢ at a rummage sale, the rolling pin made by my father, the antique mixing bowl a friend gave me--having these treasures in the kitchen drawers and cabinets inspire me to take time to bake more often, which is good for my busy soul at the harried end of a school year. Did my bread turn out better as a result? I'll let you be the judge.