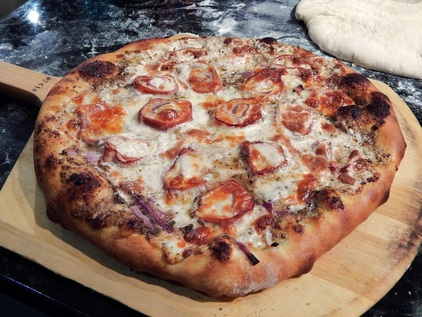 When a Loretto sister asks you if you'd be willing to do a fundraiser for an orphanage, you'd better say "yes" or you'll go straight to hell.
That's what went through my mind when Sr. Mary Ann of the Loretto community at Lockwood Center in Webster Groves asked if I'd be willing to provide some kind of auction item for
St. Vincent Home for Children
. "Pizza Party for Eight" I said, with only the slightest hesitation---after all, you never know if the person who buys your party is going to have decent ovens or be any fun to be around.
Happily, for my most recent venture I was lucky on all counts: lovely home, enjoyable company, gracious hosts and a pair of terrific ovens. The pizza menu (voted on by the guests) included Pesto and Prosciutto, Italian Beef, Four Cheese Tomato Top, and Pizza Diavolo (the hot one!). The pizza pictured above was our first of the night, made with pesto cream sauce and prosciutto rotola.
"Rotola" is a product made by Volpi Meats in St. Louis and as a pizza topping it's nothing short of spectacular. The folks at Volpi roll up sheets of mozzarella with prosciutto, salume, basil, or sun dried tomatoes, so once you lay down a little sauce, all you have to do is cut slices of the rotola and arrange them on top, and there's your cheese and toppings in one step. I added some red onions to the one pictured above, but the rotola alone works just fine.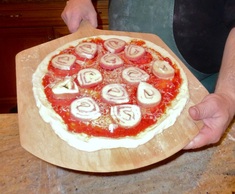 Actually, just "fine" is an understatement, because what you end up with are pools of melted mozz with a spiral of fried ham embedded in the center of them. Here they are on top of a regular tomato-based pizza sauce (OK, I say "regular" but it's actually completely homemade from Br. Luke's tomatoes and my herbs!)
Want to check out Volpi's rotola? Click
HERE
, and if you get a chance to visit their shop on the Hill in St. Louis, bring a cooler to take home some fresh salsiccia as well.
(And no, I don't work for Volpi and they haven't paid me for this post, although I am friends with some of the staff and sometimes they give me free guanciale!)
Okay, I know you're dying for the pesto cream sauce recipe, but I can't really give you much here except the base sauce:
Béchamel Sauce
2 Tbs. butter
2 Tbs. all-purpose flour
1 cup milk
salt and pepper to taste

In a small sauce pan, melt butter over low heat. Add flour and whisk until smooth, being sure to get all the flour out of the corners of the pan. Cook until a light tan color, whisking constantly—about 3 to 5 minutes. Gradually add the milk and continue to whisk over medium high heat until mixture is thickened and coats the back of a spoon, about 4 minutes. Add salt and pepper to taste.


Any kind of milk will do from skim to half and half, or even (as I used for the party last night) heavy cream. Then I whisked in about a quarter cup (??) of pesto sauce, just the stuff from a jar, and some "pizza sprinkle" herb mix I found in an Italian grocery somewhere. This produced way more sauce than a needed for one pizza, but some lucky guest at the party went home with the rest to make a knockout pasta for her Monday brown bag lunch.

Here are some photos of the other pizzas as well: