As followers of my Facebook page are aware, my mother was recently in ICU for several days with a severe infection in her colon. She's home now and much improved, but still a bit weak. She doesn't have any dietary restrictions but doesn't quite have the appetite she usually has, which of course has us a bit concerned. So decided to make her a treat like Great-grandma Sardick would make: Austrian povitica (poh-VEE-teetz-ah). Her favorite bread baked by her favorite monk? Surely she'll have a slice or two, won't she? So I hoped, and when I told her on the phone about my plan she seemed pleased, even excited.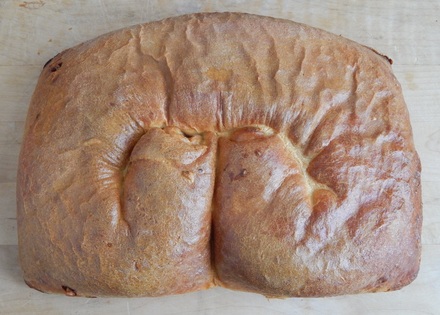 I am proud say that this recipe has been in my family for at least four generations. My great-grandmother, Frances Zunic Sardick, brought it to this country from Austria. You often see Croatian or Slovenian versions of this bread (usually called potica) which use ground walnuts, cream, honey, and a much sweeter dough rolled into very thin layers. They are very popular at Christmas and Easter in our area of north central Illinois, where the Slovenian Women's Union of America have an active branch (#140) and have produced a fine cookbook.

But in my family, povitica is a savory bread rather than a sweet treat, and is reserved almost exclusively for Easter, at the end of Lenten fasts and meatless meals. When my mother was a little girl, my grandmother used to make it on Good Friday to serve Saturday night. How she could stand to fry bacon and bake bread on the most important day of fast and abstinence in the church calendar, I can't imagine! She certainly made of sterner stuff than Mom and Grandpa Frankie, who would leave the house and visit every church in a 25 mile radius to escape the tempting aromas.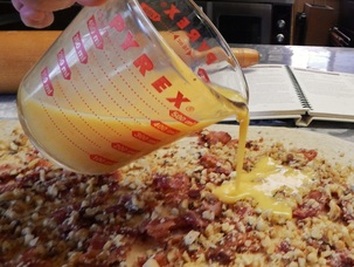 At least in my family's traditions, there isn't a specific dough that is required for povitica, although
basic white dough
is what mom always used, enough for two standard loaves of bread. Potato roll dough works well, too, which is what I used this time around. The dough is rolled out into a large rectangle, and the bacon and walnuts spread on top. A couple of tablespoons of sugar are sprinkled over the dough, and finally
six beaten eggs
poured over the whole mess. You can see why we usually serve this once Lent is over!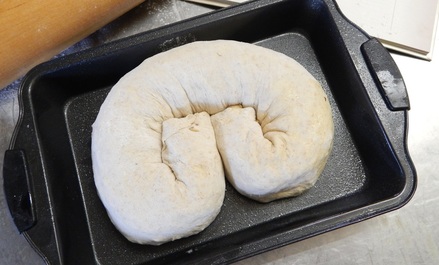 The rectangle is then jelly-rolled, formed into a double spiral, and placed in a lasagna pan, although the sweeter versions are traditionally made in a Bundt pan. As you can imagine, the resulting loaf is huge and a bit heavy and wonderful is every way. Its weight comes from the filling---the dough itself rises be a fluffy and tender contrast to the hearty bacon and walnuts. The combination of salty/savory/sweet/soft/crunchy/chewy makes eating this bread a memorable experience.
Naturally my mother made sure I was inducted into the tradition of baking povitica, and I recall her patience in teaching me to roll out such a large amount of dough. She probably rapped my knuckles with a wooden spoon for sneaking bits of bacon out of the bowl---I still can't resist a taste or two!---and kept a watchful eye as I chopped walnuts so they would be neither too large nor too small. I was dubious that the beaten eggs would stay in place as I rolled up the rectangle, but she was positive and encouraging, as all great teachers are.
Another memory of povitica I have is from my senior year of high school. Thanks to a religion class on Catholic peace and justice issues, I had become involved with
Oxfam America
, an organization that works to end world hunger. They had a campaign for people to fast on the Thursday before Thanksgiving and then donate the money they might have spent on food to the organization. I decided to commit myself to the fast and announced my intention at the dinner table a few days before the event.
I had intended to fast the whole day, even though I had to work at my fast-food job after school until about 10 p.m., but my mother would have none of it: "I don't want you passing out at work!" So even though it was months before Easter, my mother made a huge povitica and packed two thick slices for my lunch. I won't say I wasn't hungry at work (and that was at least part of the point of the exercise---to experience hunger as so many others do) but at least I didn't faint into a fryer.
So I set off for Peoria with povitica, potato bread and Holy Communion, to feed my mother both body and soul. When I arrived she was still in some pain and a bit tired, but was alert and cheerful as she could be under the circumstances. We visited for awhile, and then the family members who were around joined us for the prayer of anointing and the Eucharist. Shortly thereafter, my sister brought some lunch in: lovely Yukon Gold potatoes and green beans fresh from the garden. My mother looked at the plate and said, "Where's the povitica?" By the time I had cut her a slice and buttered it, she had nearly finished the potatoes and beans and was ready for her treat. She ate it in her customary lady-like fashion, and obviously relished every bite. I hope she polishes off the loaf.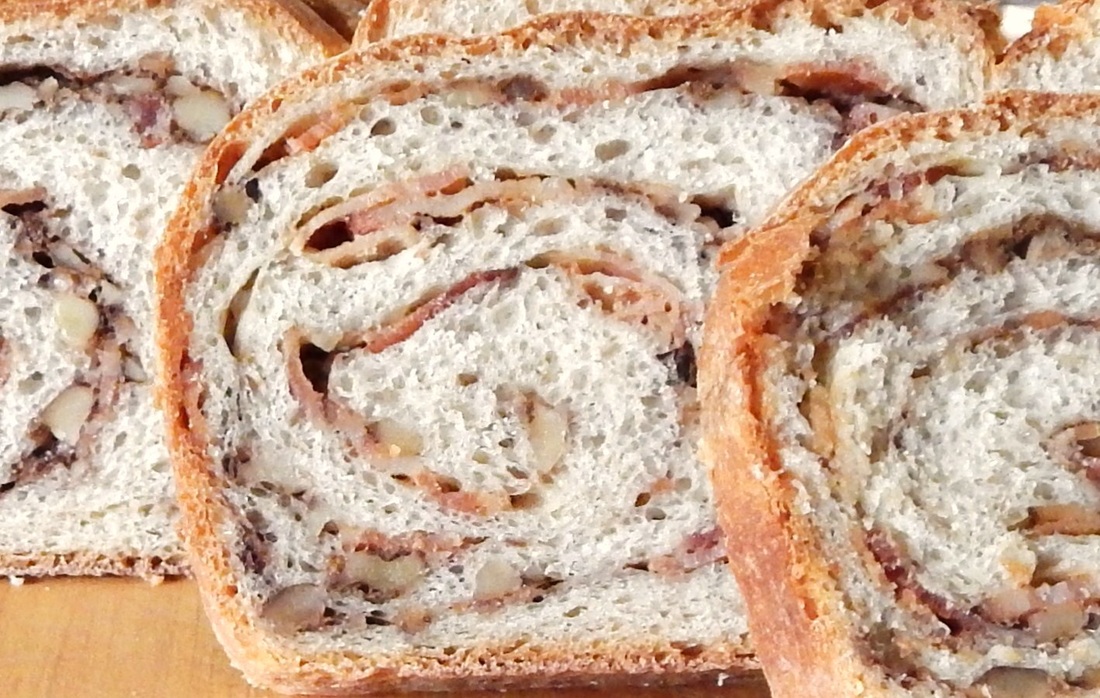 On the drive back to the abbey, I was reminded of a saying of Khalil Gibran from The Prophet: "Work is love made visible." I thought of all the love my mother has shown me throughout her life, working as a single parent to put five kids through Catholic grade school and then into various colleges, all the laundry and sewing and housecleaning, all the meals prepared, often with homemade bread and an astonishing array of cookies. She made us do our share but never shirked herself, and always with the greatest love. I looked up the Gibran quote when I got home and in the same section found this gem:

"When you work with love you bind yourself to yourself, and to one another, and to God."

I didn't really need Gibran to teach me that---I had my mom as an example.
​You may want to bake up some bacon and walnut love yourself, so look for the recipe for Austrian Povitica
HERE
.
​God bless and happy baking!