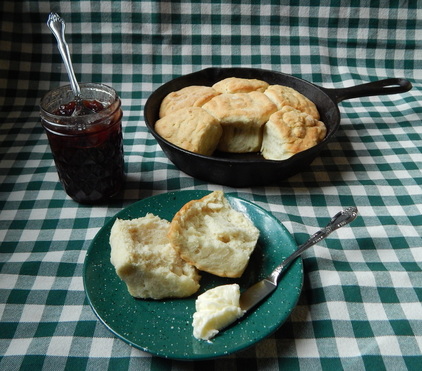 A few weeks ago I gave a brief lecture on sourdough starters and how to capture wild yeast from the air. I haven't done much sourdough baking in the last year, but the lecture inspired to renew all my starters and get out some favorite recipes. Among them is a recipe for sourdough biscuits, also known as "Pinch-Offs". They are surprisingly easy to make and the recipe is reliable.
I got this recipe from
Sourdough Jack's Cookery and Other Things
, a comb-bound booklet that did much to renew the interest in sourdough baking back in the 1970's. "Sourdough" Jack Mabee was an Alaskan chuck wagon cook with decades of experience with sourdough and a wealth of sourdough lore which he shares freely in this book. It's out of print now but copies show up regularly on eBay. If you are interested in sourdough from a more historical and scientific perspective, be sure to get Ed Woods'
Classic Sourdoughs: A Home Baker's Handbook
(Ten Speed Press, 2001, ISBN 1580083447). This book is an updated version of
World Sourdoughs from Antiquity
(1996, ISBN 0898158435 ) by the same author. Either book is an excellent resource for sourdough baking, especially for those who want more than recipes. Wood mixes hard science with a profound respect for baking traditions, so you get baking, history, biology, chemistry, and cultural anthropology all mixed in one entertaining and informative volume. Between Ed Wood and Sourdough Jack Mabee, you'd have all the info you need to become proficient at sourdough.But before you can make sourdough biscuits, you need some sourdough starter. If you don't have any and don't know anything about how to get some, stop reading this blog and go to my lecture notes from a sourdough class I gave at Missouri Botanical Gardens a few years ago. Read and/or download them
HERE
.
* * * * *
If you DO have starter, here's the recipe I used to make the biscuits pictured above. I actually doubled the recipe and made a batch in a 12" cast iron skillet, then used the leftover dough to fill the 8" skillet in the photos.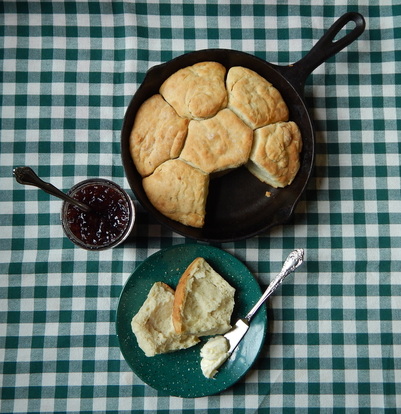 Sourdough Biscuits

("Pinch-Offs")


½ cup sourdough starter
1 cup milk
2 ½ cups unsifted flour
1 Tbs. sugar
¾ tsp. salt
1 tsp. baking powder
½ tsp. soda
Bacon fat or melted butter

Mix starter, milk and 1 cup of the flour in a large bowl (the night before if biscuits are for breakfast; if for dinner, then in the morning). Cover the bowl and keep at room temperature to rise.

Turn this very soft dough out onto 1 cup of flour on a bread board. Combine sugar, salt, baking powder and soda with remaining ½ cup flour and sift over the top. With your hands, mix dry ingredients into the soft dough, kneading lightly to get the correct consistency. Roll out to a 1/2 –inch thickness. Cut out biscuits with a cutter, and dip each in either warm bacon fat or melted butter.

Place close together in a 9-inch square pan and set in a warm place to let rise for about ½ hour. Bake in a moderately hot oven (375 degrees) for 30 to 35 minutes. Makes about 14 biscuits (2 ½ inch).

Alternate method (and the one I prefer): pinch off balls of dough about the size of an unshelled walnut. Dip in melted butter and place close together in a 10" to 12" cast iron frying pan. Allow to rise and bake as directed.

Notes
---I have taken this recipe directly from Sourdough Jack's Cookery and Other Things because it's just about the best sourdough biscuit recipe around, and appears to be most authentic. The book is now out of print but available on eBay.
---The recipe can be easily doubled for a larger pan (which is what I do when I have a whole community of hungry monks to feed!
---For an herbal variation, add 1 to 3 tsp. dried herbs to the dry ingredients. 1 tsp. sage, 1 tsp. thyme, ½ tsp. savory and ¼ tsp. of ground pepper makes a nice combination. A quarter to a half cup of grated cheese added to the recipe makes a savory biscuit to accompany soup or stew.