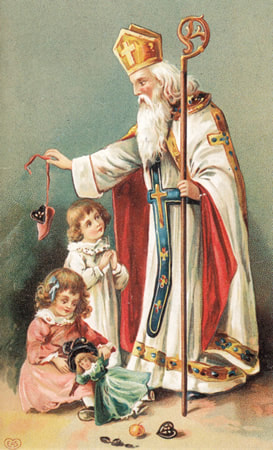 November 28th I'm giving a presentation on Christmas baking (private event for a club) and I've been putting together my PowerPoint presentation, mostly using my own photos but occasionally making use of online images---with appropriate credit given of course! I start with the feast of St. Nicholas on December 6 and work my way all the way through Our Lady of Guadalupe, Santa Lucia Day, Christmas Eve and Day, and all the way to Epiphany. I include recipes from several cultures and traditions, with foods in honor of Mary, Joseph, Jesus, the shepherds, the angels, and the Magi. Most of the material comes from my book
'Tis the Season to Be Baking,
but this week I was inspired to expand my presentation to include a traditional cookie for St. Nicholas' Day called
speculaas.
A version of
speculaas
can be found in any country where St. Nicholas is honored, but especially in Germany, the Netherlands, Poland and the Ukraine. They are a spiced cookie with similar flavors to gingerbread but without the molasses. They can be molded or rolled out and shaped with cookie cutters. Go to
www.stnicholascenter.org
for recipes, cookie cutters and other resources. (I used the recipe for
"Dutch Spice Cookies"
). Having cleaned out my mother's house in the past year (the one with 9,000 cookie cutters in the basement), I didn't need to shop. I had the perfect cookie mold in storage, just waiting to be used.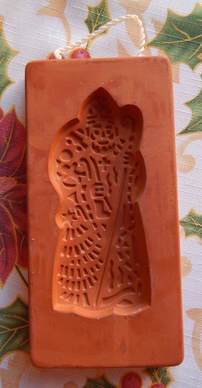 I bought this cookie mold for my mom while I was at school at St. Meinrad Archabbey, at their (now defunct) Abbey Press. They had some kind of yard sale, and I found this terracotta mold for all of $3.00. Based on its condition when we found it in the house, I don't think Mama ever used it so I decided that a test was in order, if for no other reason than to get some photos for my presentation. I found the recipe online at the aforementioned St. Nicholas Center and mixed up the dough in a jiffy. Some recipes call for chilled dough, others say to use the dough at room temperature--the instructions that came with the mold suggested the latter. They also said to dust the mold with flour, but flour didn't want to stick to it, so I measured out the dough (about 3 tablespoons) and rolled it in flour before putting in the mold---worked like a charm! The cookies popped out of the mold without any difficulty.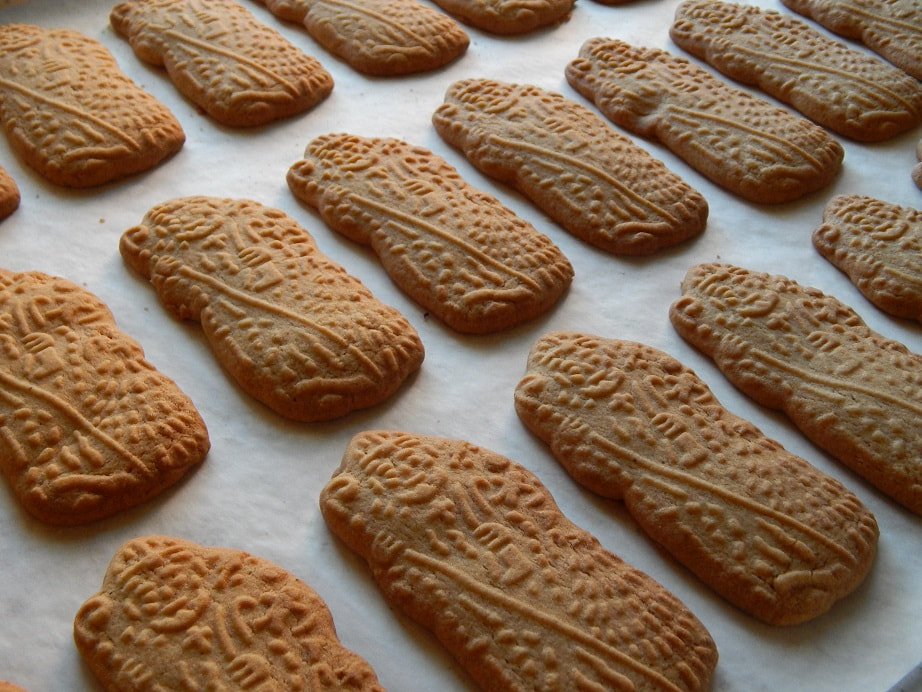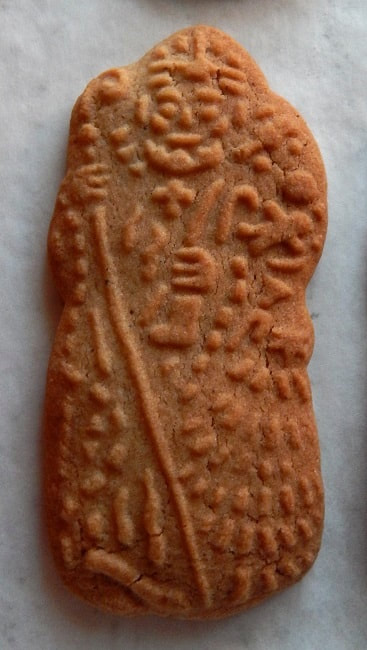 The result was three dozen of these adorable cookies which made the kitchen smell delightfully like Christmas in spite of it being the day after Thanksgiving. I don't need Black Friday to get myself into the holiday spirit! You'll have to special order the mold for yourself (some resources
HERE
) unless you are lucky enough to find one in an antique mall or flea market. Longaberger made one but it's too large for my taste and it's harder to get the cookie out of such a long mold.
I might also add that having experimented extensively, I think
speculaas
are equally delicious with cold milk, warm tea or hot coffee, but you will have decide for yourself. December 6 isn't far away--get baking!