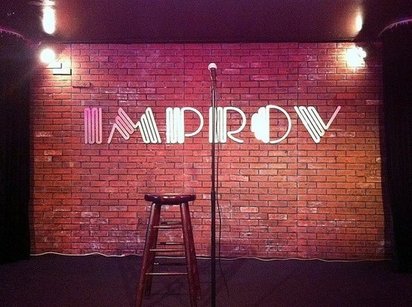 Many people don't realize that improvisational comedy like you see on "Whose Line Is It Anyway?" is not merely a cadre of witty people making things up as they go along. Improv actually has a number of
rules
or guidelines to keep the scene from stalling, going in circles. or just being dull. Most people have to study and practice a long time to learn how to apply the rules and, eventually, when to break them. Similarly, an experienced chef or baker often improvises to develop a new dish, based on what's in season at the market or what's in the pantry right now, and shows like
Chopped
give us ample evidence of how culinary know-how and creativity (and sometimes, pure dumb luck!) can combine to yield extraordinary results.
Whenever I present a bread demo and mention that I made a certain recipe up on the fly, someone always asked, "But how did you know that was going to
work
?" The answer, of course, is that you might not know for
certain
, but with enough knowledge and experience, you can increase your chances of success. I recently created a new biscuit recipe using a combination of experience, improv, and serendipity.
I wanted to bake something for supper for the feast of St. Joseph, and normally that would mean the traditional
cream puffs
, but we had received a donation of several trays of bite-sized desserts (left over from a shower) so we didn't need any more sweets in the house. I didn't have enough time for yeast rolls so I decided on drop biscuits, because I had buttermilk in the fridge from
Irish Soda Bread
. I had noticed that the chives had already sprouted in the herb garden, so
Cheddar Chive Biscuits
seemed in order. Alas, there was no decent cheddar in the fridge, but I did spy some some limp celery and a handful of baby carrots. From all that, Buttermilk Garden Drop Biscuits were born.
I took a basic drop biscuit recipe from
The Joy of Cooking
(surprisingly, there was nothing comparable in Bernard Clayton's
Book of Breads)
but it used 2% milk, so I knew I would need to add some baking soda to get more loft. Baking powder and baking soda are not interchangeable, as the former is activated by heat and the latter by acidic ingredients. But baking soda is much ore powerful, so only a quarter teaspoon was needed.
I also increased the amount of flour by a quarter cup, for two reasons. First, the original recipe called for shortening, and all I had was butter, which has a higher moisture content. Secondly, minced celery and shredded carrots add a lot of water to the mixture as well. I didn't want my drop biscuits to spread out into savory pancakes, so I added that little extra bit of all-purpose flour.
I also knew that the veggie flavor in the biscuits would be more prominent with a little more salt, but why add just salt when you can also add flavor with a salty aged cheese? There was some excellent Romano left over from a recent pizza party which made its way into the mix. Drop biscuits mix up in about four minutes and bake in less than fifteen, so it wasn't long before these beauties were out on the counter. They were the perfect accompaniment to grilled chicken breasts---the-herb-and-veggie flavor is exquisite but fairly subtle and would overpowered by a more heavily seasoned dish. I had one with my Lenten soup today and it was a treat.
So now that you've got a basic recipe, try your own improvisation, based on what you find in the produce section, the fridge, or the backyard garden. I'd love to hear about your baking adventures.

​God bless and happy baking!

Buttermilk Garden Drop Biscuits

2 1/4 cups all purpose flour
1 tablespoon sugar
1 teaspoon salt
2 teaspoons baking powder
1/4 teaspoon baking soda
5 tablespoon butter
1/4 cup minced fresh chives
1/4 cup finely shredded carrot
1/4 cup minced celery
1/4 cup shredded romano cheese
1 cup of buttermilk

Preheat oven to 425 degrees. Stir dry ingredients together in a medium size bowl. Cut in butter using a pastry blender or two knives. Mix in chives, carrots, celery and cheese. Add milk and stir until just blended. Drop by tablespoons onto a lightly greased baking sheet. Bake at 425 degrees for 12 to 15 minutes, or until lightly browned. Cool slightly and serve warm. Makes 12 large biscuits.