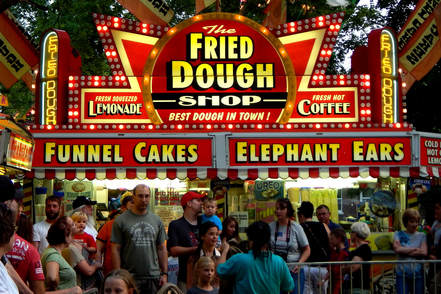 Yesterday I attended the Marshall Putnam County Fair (Henry, Illinois) with my sister Angela, who, like me, enjoys eating from the "fatal food group." Enjoying lemonade shake-ups and cheesy fries with her reminded me of my family's love of summer fairs and festivals while we were growing up. Between that and National Corn Fritter Day July 16, I decided to share the following excerpt from my new book
Baking Secrets from the Bread Monk" Tips, Techniques, and Bread Lore
(Reedy Press) which is available on the abbey's
Monks' Market
website.
From the chapter titled "Food Holiday Mash-ups"
July is designated National Culinary Arts Month, with a grateful nod to culinary professionals, from TV celebrity chefs to the under-appreciated line cook who makes the best hash browns at the local diner. Culinary training runs the gamut from small classes at cooking stores to junior college degree programs to the Cordon Bleu. But the term "Culinary Arts" always reminds me of the sign above the doorway to a barn-like structure at the Peoria Heart of Illinois Fair where my mother entered her bread every year (her raisin bread took first place nearly every time she entered it).
I love fair food in general and fried foods in particular: corndogs, haystack onion rings and funnel cakes are my personal faves. But there was one year at the Heart of Illinois Fair when a local church set up a tiny trailer out of which they sold fresh corn fritters. These fried delights were dredged in powdered sugar, and served piping hot in a brown lunch paper bag. I devoured several bags' worth over the course of the week of the fair, and eagerly anticipated their return the following year. But alas, I was disappointed in my expectation---the little trailer with the hand printed cardboard sign never returned. You'll have to settle for the homemade version yourself, and hope they are as good as my memories.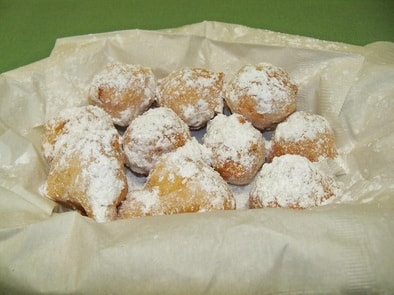 Corn

Fritters






Oil for frying
1 cup all-purpose flour
2 teaspoons of sugar
1 teaspoon baking powder
¼ teaspoon of salt
2 large eggs
½ cup milk
2 tsp. vegetable oil
1 12 oz. can of corn, drained (3/4 cup, fresh)
Powdered sugar for coating

Heat at least 2" of oil to 375 degrees F., either in an electric fryer or in a heavy pan over medium heat. You may use an electric deep fryer as well. Measure flour, sugar, baking powder and salt into a bowl and whisk to combine ingredients thoroughly. In a separate bowl, beat eggs, milk and oil together, then stir in the corn kernels. Pour wet mixture into the bowl with the dry ingredients and stir until thoroughly combined. Drop tablespoons of the batter into the hot oil and fry until golden brown on both sides---they may need some help turning over. It takes only two or three minutes for them to cook, so don't crowd the pan or the oil will cool and the fritters will be soggy with grease. Remove the fritters to drain on paper towel, then roll them while warm in the powdered sugar to coat (some people prefer granulated sugar). Serve immediately.
​