On a recent vacation day I went to the local antique mall to see if I could score some vintage bread knives to use as door prizes at my next demo. I didn't find any, but what I did find was a Kaiser roll stamp, made of cast iron with a rosewood handle, incorrectly labeled as a "vintage nut chopper".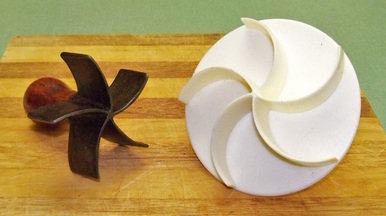 Here's what I find really interesting: on the left is the antique stamp, and on the right is one I bought about ten years ago. Look at the difference in size! Kaiser rolls were meant to be dinner rolls, sometimes used for small sandwiches for breakfast. But in typical American style, we make them HUGE, large enough for a 3/4 pound burger with all the works. It's the same way with pastries. Traditional Danish pastries are tiny treats, meant to be nibbled on delicately or perhaps eaten in a couple of bites. But order a "Danish" at an American bakery and you'll get something the size of a catcher's mitt.
Don't get me wrong. I am not against the occasional extravagant meal or decadent dessert: "Moderation in all things, including moderation." But our food culture in the United States seems to be fueled by the desire for complete satiety at the every meal, supersized portions for every entree, and the substitution of platters for dinner plates at restaurants. Even worse, we're often getting quantity but not quality. I will confess you having baked some very large caramel pecan rolls in my day, but they were, after all, homemade, and make them only once or twice a year! I'm more likely to serve the brethren a healthy multigrain bread for breakfast.
Okay, enough ranting. Let's just try to stem the tide of culinary mediocrity and caloric excess, one roll at a time.