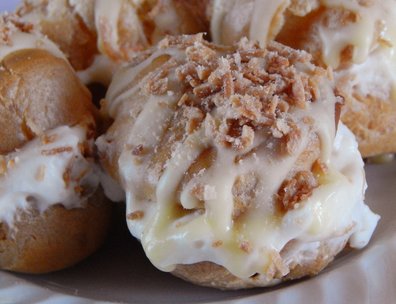 Today is the birthday of Mady, one of my Stage Rats, and she has a special appreciation for my cream puffs, so I thought I'd make some for the kids are her lunch table, most of whom are Stage Rats as well. Saint Bede alum Collin and I made the
pâte à chou and baked the puffs last night, and Mady even helped whip the cream that I folded into banana pudding to make the filling. But she had to leave before everything was finished, so she missed out on the initial taste test. But she'll get a couple dozen for the table today.

The pudding I used was Jello's Simply Good Banana Pudding (I didn't get any compensation from them---I genuinely love this product!) because it's made with real bananas and not artificial flavorings. The instructions call for 2 cups of milk, but I reduced that by a quarter cup to get a more intense banana flavor. Then I whipped a little over a cup of heavy cream (whatever was left in the carton, essentially) and folded that into the firmed-up pudding. Filling: done!

For the drizzle on top, I whisked together a heaping tablespoon of banana pudding mix, a quarter teaspoon of coconut extract, a third of a cup of powdered sugar, and three tablespoons of half and half. After each puffs got filled and drizzled, I sprinkled on toasted sweetened coconut. Collin said of the flavors, "It's like a banana exploded in your mouth."
I know that some Breadheads will want more details on the recipe, but I pretty much made it up as I went along (remember my last "improv" blog post?) and for the
pâte à choux I used the recipe in The Joy of Cooking.
However, there is a very nice video tutorial for making choux puff pastry
HERE
. Equal parts of any flavor of pudding folded together with whipped cream make a delicious filling, and the most traditional garnish is a light dusting of powdered sugar.
As I have said many times, most people don't need any more recipes, they need reasons to bake. For example, one of my religion students saw me walking to Mady table with the banana coconut cream puffs and asked if she could earn a batch for the class with a perfect score on the day's quiz. I agreed, but if she didn't get a perfect score each classmate had to bring me a five pound bag of flour. All interested parties agreed to the wager.
I've never been so happy to lose a bet.