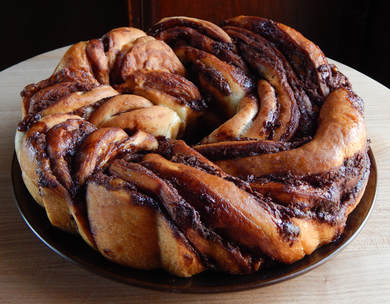 Recently I posted a picture on
my Facebook page
of a chocolate babka I made using leftovers. We had mashed potatoes for supper, and about 3 cups remained, which is enough for a triple batch of
Best Ever Crescent Roll Dough
, which I find makes outstanding dinner rolls and coffeecakes. As I mixed the dough up I remembered that we also had some candy that was beginning to go a bit stale and was best used for baking. So I chopped up some walnut penuche and small pieces of dark chocolate and put them in a sauce pan. In another saucepan I heated up some half and half, then poured it over the candy and stirred it over very low heat until it was smooth. The result was a rich chocolate caramel ganache that made the perfect filling for babka. I had enough for two babka, one of which was devoured by the brethren at breakfast. The other I took as a treat for the staff at the doctor's office where I go for my diabetes---the irony was not lost on me or the secretaries!
When I shared the picture on Facebook, one Breadhead posted the comment "Another creation from 'Father Waste Not Want Not'! accompanied by a smiley emoticon. Seems that my love for using up what's in the pantry has been noticed by my fans! The abbot has commented on this tendency once or twice as well, with paternal approval for my monastic frugality, which I actually inherited from my Depression era grandmother. I hate to see anything go to waste, especially food, and I'm more likely to be inspired by what's in the fridge than what I see on Pinterest. Leftover corn goes into
cornbread
, an abundance of spinach from the garden means
spinach pesto
for pizza, stale bread is transformed into
croutons
or
crostini
.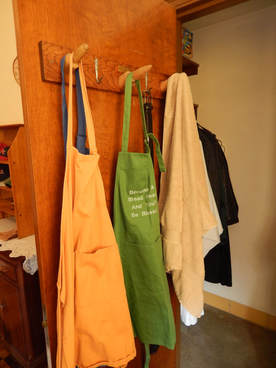 The same compulsion fuels my love for thrift stores and flea markets. You may have already seen Bread Blogs about the
bread quilts
I make out of vintage dresser scarves and embroidered linens, or how I accessorized my
monastery room
with reclaimed oak and old rolling pins. I even made my
trash receptacle
out of an oak desk that had been water damaged. I'm grateful that in addition to learning how to bake from my mother, I was taught woodworking by my father, who was an amateur (but talented) carpenter. In my shop there is a lot of lumber rescued from pews, kneelers, desktops and bleachers, waiting to be transformed into a treasured piece of furniture or funky accessory.
That's why there is a large plastic tub in my shop filled with vintage rolling pins in need of restoration. I'm pretty particular about which ones I buy. They have to be less than $10, without plastic or ball bearings (preferably made entirely of wood) and in need of TLC. I or one of stage crew will strip off the old grime and stains with coarse sand paper, refinish the barrel with a finer grit, and repaint the handles as necessary. Then they get treated with Boos Block Mystery Oil to restore the wood. I've done a few this week, now that the weather isn't so beastly. My shop is attached on the stage in the (un-airconditioned) gymnasium, and it gets plenty hot and humid back there---last summer it got so hot in the stage right stairwell that the heat sensor went off and summoned the fire department!
My most recent restoration was a small rolling pin, only 9" across with a narrow barrel and red handles---because it's in the foreground of the photo, it looks larger than it is. It has a long stain down the length of it and some chips along the edges of the barrel, all of which are too deep to sand out. If you look carefully, you can see that it has a metal rod and one of the handles is slightly bent. But it still works just fine, and in spite of its faults I can't bring myself to throw it out. I keep thinking of a line in the poem "To Be of Use" by Marge Piercy: "The pitcher cries for water to carry." In the same way, the rolling pin, bent handle and all, longs for the grip of the baker and a slab of dough to work over. But, I already own a number of rolling pins of various sizes and purposes. What to do?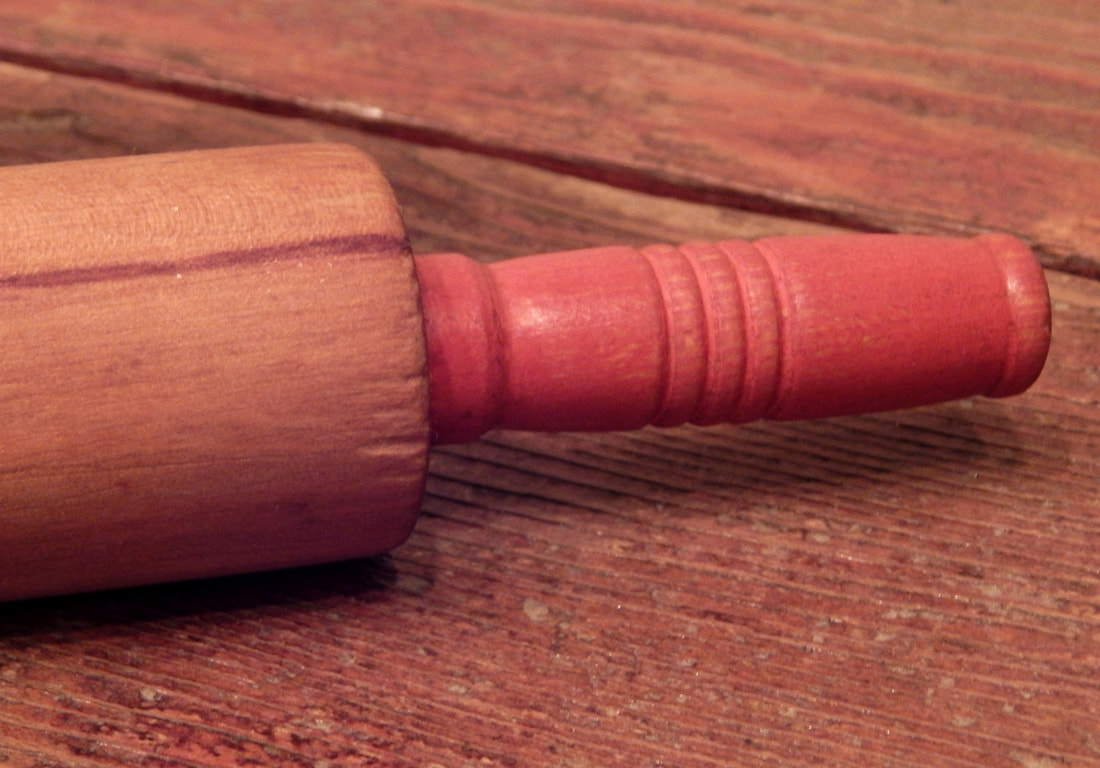 The obvious answer is to give it away, but I am reluctant to use it as a door prize, in case the winner is not so enamored with the charm of its imperfections. So here's the deal, Breadheads. If you think you would be willing to give this wounded warrior a good home, click on the button below ("Enter Here") or in the comments (which will display your email address ONLY to me) to send me an email with a short explanation of why your kitchen is the place where it belongs. (This reminds me of those Facebook posts with the pictures of unwanted shelter dogs!) On August 8th, the feast of St. Dominic, I will choose a winner and send it to you free of any charge (not even shipping and handling, unless you live outside of the continental United States, in which case we'll negotiate!)

Please note: By entering, you are giving me the right to quote from your entry in my Bread Blog without using your name, and if you win I have your permission to post your entry and your name in a post on this blog page. I promise, I won't use your email address for ANYTHING other than to contact you if you win. Enter now---the little rolling pin is waiting for your hands.

Now if you will excuse me, I have dough rising. We had deli sandwiches for lunch and there are a lot of leftover onions which are now minced and mixed into dough with herbs from the garden for dinner rolls.
​