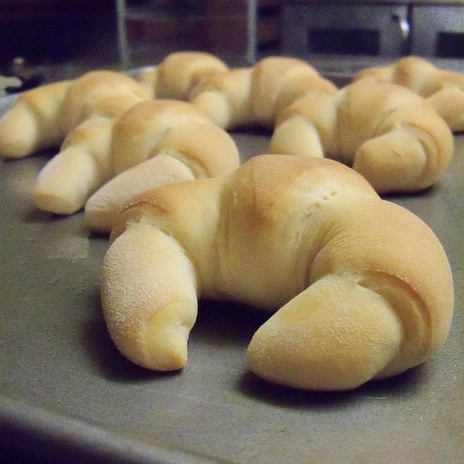 ​​Best Ever
Crescent Rolls
---
Best Ever Crescent Rolls
2 packages active dry yeast
½ cup warm (110° F) water
1 cup milk (skim, 2%, or whole milk all OK)
1/3 cup shortening, melted and cooled to lukewarm
¼ cup sugar
1½ teaspoons salt
1 cup mashed potatoes
2 large eggs, beaten
6 to 6½ cups all-purpose flour

Proof the yeast by mixing it in a small bowl with the warm water and allowing it to develop for five minutes. Heat milk in a saucepan, but do not boil. Add sugar and salt, mix well and cool to lukewarm. Pour into a five-quart mixing bowl and stir in the mash potatoes, proofed yeast and eggs until smooth. One cup at a time, add four cups of flour, mixing thoroughly each time until the flour is incorporated. Beat in the melted shortening. Add another 1½ cups of flour, and mix with your hands until the dough pulls away from the side of the bowl and forms a single mass. Remove from bowl and turn out onto a lightly floured surface and knead for five or six minutes, adding more flour as needed to form a smooth, elastic dough. Remember that dough for rolls should be slightly softer than most bread dough. Place in a greased bowl and let rise, covered, in a warm place free of drafts until doubled, 1 to 1.5 hours. Punch down dough and knead briefly to expel the larger air bubbles.

Divide dough into three portions and shape into smooth rounds. Cover with a clean, dry cloth and let rest 10 minutes to allow the gluten strands to relax so it will be easier to roll out. Roll one portion of dough into a circle roughly 14" in diameter. With a small pizza cutter or sharp knife, cut into eight equal wedges. Starting with the wide end of each triangle, roll up and curve the pointed ends to shape into a crescent. Note that the points are curved towards the narrower side of the top layer of dough and the point of the dough ends up on the bottom of the roll. Place the rolls, evenly spaced, on lightly greased cookie sheets---allow room for them to nearly double in volume. Cover baking sheet with a clean, dry cloth. Repeat with remaining portions of dough. Allow to rise until nearly doubled in a warm place, free of drafts--30 to 45 minutes. Bake at 375° F. until lightly browned, about 12 minutes (the interior temperature of the rolls should be 190 to 195° F.). Remove rolls from pan to cool slightly on wire racks and serve warm.