On June 1st I wrote a blog about accessorizing my new monastery room with pieces I upcycled from rolling pins, antique silverware, and vintage oak taken from a junk desk. The room feels quite homey and I've settled in nicely, but one thing was missing---a decent trash receptacle.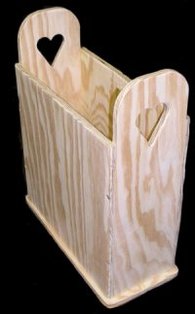 The room had a garbage can, of course; every monastery room comes with one, in this case an ugly, dented, yellow can made of metal. It had to go. In the past I had made trash bins of scrap plywood from backstage. (For those who who may be mystified by this reference, I'm the stage manager of our high school.) I have one of these in my classroom, painted in our school colors, and a couple more in the dressings rooms. They're designed so you can slip a plastic grocery bag over the handles, rather than buy more plastic for garbage bags. (You can buy them from a woodworker online; click
HERE
.) But since I'd gone to the trouble to make unique and playful clothes hooks and shelving for my room, I decided to go back to my pile of vintage lumber and see what I could cobble together.
So with a lot of measuring and gluing, a Kregs pocket hole jig and a right angle drill attachment, I got my solid oak trash bin. The lumber didn't cost me a thing--look at that gorgeous grain--and the brass handles to hold the bags were 50 cents at a flea market, so I still feel quite monastically frugal. I learned a lot from the project--for example, old-fashioned shellac is NOT as forgiving as polyurethane--and next time I might go about it a little differently, but over all, I'm delighted with the results.

What does this have to do with baking? Not a darn thing, really, except that my new trash bin sits next to the desk where I type my recipes and compose my blogs. And I believe that having a cozy space with decent, simple furnishings and plenty of natural light is conducive to good writing, which is what I know have in my new room.

Just in time, too. This week my publisher and I agreed to produce another cookbook: Breadhead Breakfast Treats. From now until October my blog posts will be primarily (although not exclusively) a record of the process of testing recipes, taking pictures, and trying to get my part delivered to the editor by October 25 (my birthday). So I'll be spending lots of time with my laptop at my desk, with my new trash receptacle beside me slowly filling up with the shells of sunflower seeds. That is, when I'm not in the kitchen, up to my elbows in dough.

God bless and happy baking!