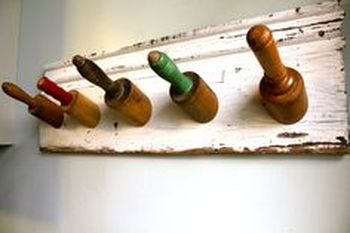 Some people might be surprised to discover that I'm on Pinterest, but there's a lot of great recipes to be found there--for bread and just about everything else--but lately I've been looking at up-cycling . When I saw the towel rack pictured to the left, I knew I had to make something similar for my monastery room.

One reason I've been thinking about such un-monastic things as interior decorating is that I'm in the process of moving from the third floor to the second floor of the abbey. There are a variety of reasons for this transfer, but one of the best is that it has made me clear out a LOT of old clothes, books I don't read and chachkies that I never dust anyway. Monks aren't supposed to be attached to material things, so this move was as much a spiritual exercise as a practical one.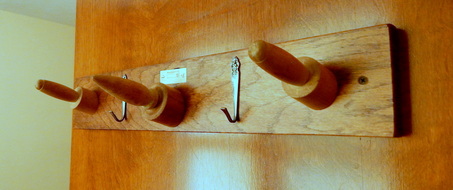 Simplicity, however, doesn't mean squalor nor sterility, so I set out to add a few personal touches. The first was to have a vintage rolling pin rack for my aprons, bath towel, belt, etc.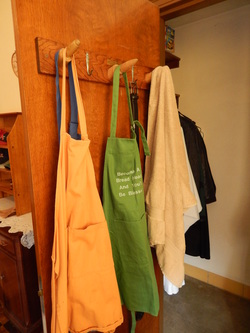 I have never been able to watch a piece of vintage hardwood go into the trash, no matter beat up the piece of furniture might be. As a result I have in my scene shop a large selection of oak and cherry boards rescued from desks and tables destined for the dumpster. You can see that the board I used still has part of the desk drawer's locking mechanism. The rolling pins I collected at flea markets when I travel for bread demos. The hooks I made from some antique silverplated forks that came in a box of flatware somebody gave me from an estate sale.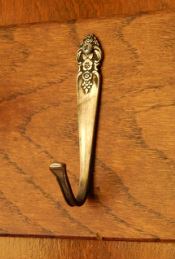 I cut off the bottom part of the forks using a Dremel tool with a ceramic cutting wheel (yes, I always wear goggles and earplugs and you should, too) and then bent them with pliers wrapped in a rag so it wouldn't leave any marks on the metal. Then I shaped and smoothed the ends on a grinding wheel. The forks were really black, but I didn't want them to look too new, so I used some OOOO steel wool to give them a little shine but leave the design accented by the remaining tarnish. I think I need to make more of these---I have a whole box of old silver plate!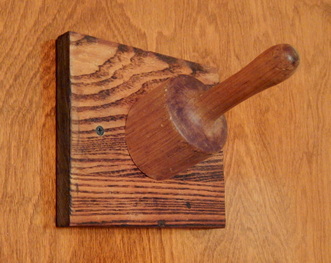 Here's another one I made to mount on the door to my room, so I have a place to hang my habit at night. This rolling pin was obviously stored in a garage or an abandoned house, because the other end of it was obviously chewed by a rat! You should have seen the size of the teeth marks---kinda creepy. I'm glad I was able to rescue it and put it to good use.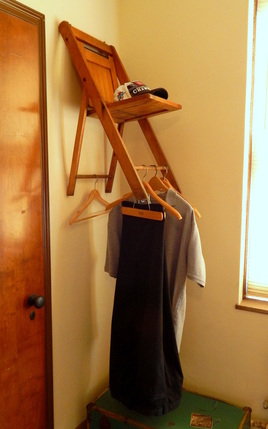 This "chair shelf" is probably the strangest new addition to my room. Click
HERE
to see the original inspiration---I think the unpainted chair looks much better. I had a single vintage folding chair back stage and never knew what to do with it. Now it's attached to my wall. In case you're wondering, I used the largest plastic anchors and a couple of extra large screws. You might need toggle bolts of mollys, depending on the composition of your wall.
You know how you take off a pair of pants and figure you're going to wear them again tomorrow? This is the perfect space for hanging up pants, shorts or a shirt, with the seat reserved for my favorite Cardinals hat.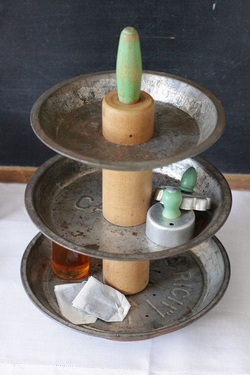 I have a rule that for every ten ideas I "pin" on Pinterest, I have to make at least one of them. Otherwise it's just digital hoarding.


So what am I making next?


Maybe this . . .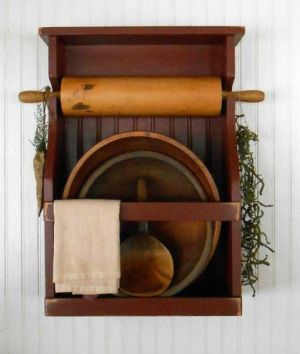 Or this . . .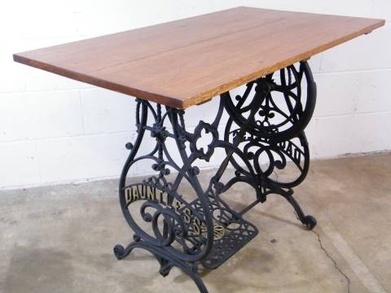 Or even this---I have an antique sewing machine base in storage somewhere backstage, and at least three oak desk tops.

Flea Market Flip's got nothin' on me.