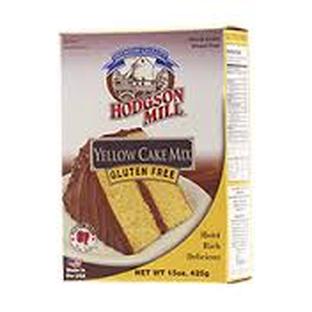 Hodgson Mill sent me some Gluten Free products to experiment with, and I've been enjoying testing all sorts of recipes that use cake mix as a base. As I generally do with product testing, I'm not interested in the recipe on the box---the company tested that recipe a thousand times until it was just right. I want to know what else you can use it for. Turns out this gluten-free cake mix is pretty versatile.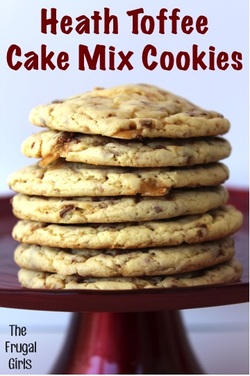 I started out with a simple cookie recipe I found online, which I made for my monthly Herb Guild meeting. I thought they needed a little more sweetness, so I frosted them with some maple flavored icing, and everyone RAVED about them. Not a soul had any idea they were gluten-free cookies until I mentioned it. I shared the recipe with one of our employees whose mother-in-law is also GF and she loved them so much she refused to share, not even with the her grand kids! The recipe I used is
HERE
, but I use the cake mix pictured above instead of Betty Crocker. I'm sure you could add any kind of chocolate chips, raisins, cranberries, etc. and get good results.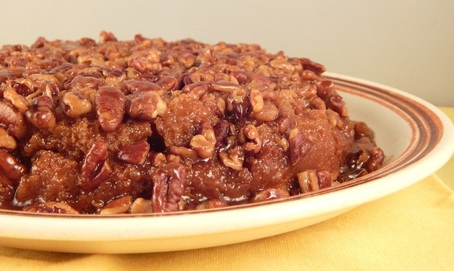 Then I tried to imagine what I would really miss if I had to go gluten-free, and I realized that caramel pecan rolls would be very high on the list. As a diabetic I make them only occasionally, and try to make small portions, but if I couldn't have them I'd at least want a decent coffee cake substitute. So I made the cake according to the directions on the box except that I subbed sour cream for the buttermilk and added 2 tsp. of ground cinnamon. After I sprayed the 8" cake pan, I poured in some caramel sauce (see below) and sprinkled on 3/4 cup chopped pecans. Then I spread HALF of the cake batter on top of that---the box makes two 8" cakes, so the other half I used for another recipe (see below). The batter is rather thick, so you might thin it with 2 Tbs. of milk or half and half as I did. The cake then baked at 350 degrees F. for 22 minutes. Be sure to place place a cookie sheet on the shelf below the cake, to catch any drips of caramel that bubble over. When the cake tester tells you it's done, ignore the directions on the box that tell you to wait 10 minutes before removing the cake from the pan. Invert a serving plate on the top and flip it immediately; remove the pan and watch all that caramel goodness ooze down the sides of the cake. Not a single monk had any idea that this breakfast treat was gluten free, and everyone named it an unqualified success, except that I should have made two.

Caramel Sauce Topping: 1/3 cup packed light brown sugar, 4 tablespoons (1/2 stick) butter, 3 TBS. light corn syrup, warmed in a sauce pan over low medium heat and stirred until smooth (do not boil). Pour into prepared pan and sprinkle with pecans before adding batter.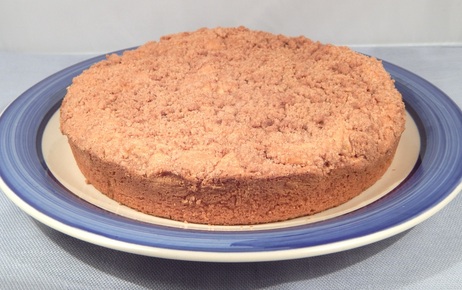 However, since the box of mix makes two cakes, I decided to make a second coffeecake, this one with an almond filling and a classic crumb topping. I put half the filling in the bottom of the sprayed 8" cake pan, then spread dollops of Solo Almond Cake and Pastry Filling on top of that, about half the can. Then I spread the rest of the batter and sprinkled on the crumb topping (see below). It also baked at 350 degrees F. for 22 minutes and came out moist and delicious, and just a tiny bit grainy. However, that was barely noticeable because of the crumb topping. (All flavors of Solo's Cake and Pastry Fillings are gluten-free, by the way. If you want to use another product, many grocery stores, including our local Hyvee, now have a list of GF products at the service desk or near the gluten-free aisle.)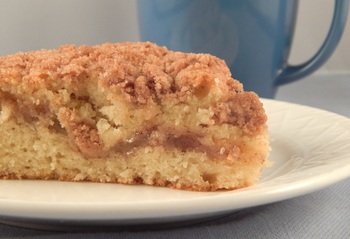 Crumb Topping In a small bowl, mix together 1/2 cup gluten-free all-purpose flour, 3 Tbs. brown sugar, and 1/2 tsp. ground cinnamon. Using a fork, cut in 3 Tbs. cold butter until the mixture resembles coarse crumbs. Sprinkle all of mixture on top of cake batter just before baking. If you don't have canned filling, double the dry ingredients of this recipe but increase the butter to a full stick and use half of the mixture as the middle layer and the other half as the topping.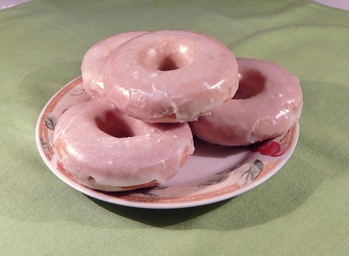 I've already written in a
previous blog
about GF baked doughnuts made with this cake mix. They need to be baked a little longer or they can be a bit too crumbly, and they do taste more like a cupcake than a traditional doughnut, but they don't have the dry, grainy texture many GF mixes tend to yield. These seem to be especially well-received by children, so if you're a mom on the lookout for GF treats, get yourself some doughnut pans and try different flavors of GF cake mixes. Another advantage---doughnuts use less frosting than most cakes/cupcakes, so less sugar intake for your tykes.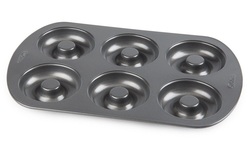 Wilton and Norpro both make these non-stick doughnut pans, for both regular size and mini-doughnuts. You can get them at any store that has kitchen ware, from Target and Walmart to Macy's. A few well-stocked grocery stores carry them, too.
I'll be testing more gluten-free products in the weeks and months ahead---stay tuned for my review of gluten-free pizza mixes. Please note: I receive free products from many companies, including the ones mentioned in this post, for the purpose of experimenta-tion and review. I do not receive any additional personal compensation and would refuse it if offered.