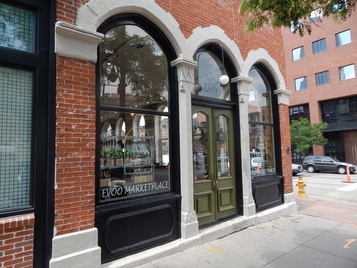 While I was in Denver, I had the opportunity to visit a EVOO Marketplace, an upscale shop featuring olive oils, balsamic vinegars, and other gourmet condiments. (
1338 15th St, Denver, CO 80202,
(303) 974-5784.
The building used to house a restaurants owned by my Aunt Norma's family. Click HERE to visit their website.) It's definitely worth the trip for a tasting---chances are you'll come home with something to dip your bread in!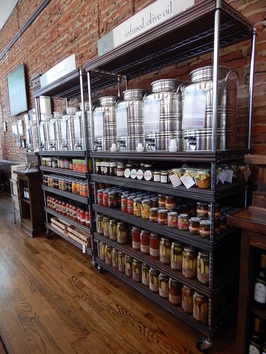 EVOO has banks of shiny canisters with a wide variety of imported and domestic olive oils. You can always find the date of pressing with each oil, so you know how fresh it is. Many of their oils are infused with various flavors, including basil, herbes de Provence, Persian lime, and white truffle. Each canister has a stack of small tasting cups next to it, which suggests to me that you being a small baguette along for dipping. The shelves below have locally sourced pickles, peaches and other canned produce. Their gift baskets must completely rock the soul of any dedicated foodie or chef.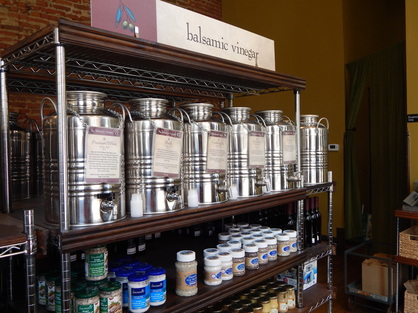 I was impressed with EVOO's selection of Balsamic vinegars, all of which are imported from Modena, Italy and are barrel-aged for 12 to 16 years. They have a variety of flavored Balsamics as well, from fuits like apple, mango, peach and pomegranate, all way to lavender, lemongrass, dark chocolate and cinnamon pear.
I ended up buying some gourmet French mustards, as well as an herbal sea salt my cousin recommended, mainly because they would fit into luggage a little easier than a large bottle of oil or vinegar. But my next trip to Denver I may have to bring a little extra money to have some oils and vinegars shipped home. It's probably a good thing monks don't get individual credit cards, because their online store is temptingly extensive!