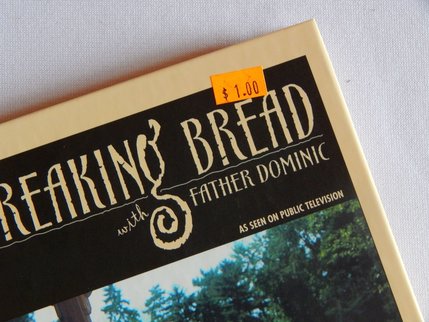 As regular readers of my blog know, I love to shop in thrift stores, second-hand shops and the like. This week at such a store, I found an embroidered hand towel to use on my next bread quilt, a square baking stone for a mere $5, and a copper-bottomed Revereware sauce pan for making caramel. And one other surprise I had not encountered before . . .

One of my cookbooks. For a dollar.

This is, I must confess, a day I have be anticipating with some unease, even though I know that my discomfort is irrational and at least partly based on a lack of monastic humility. After all, do I really have any reason to take this personally? Who knows why this particular book ended up at the thrift store? It might have been part of someone's downsizing before moving to a retirement community, or perhaps the owner lost mobility because of age or injury and could no longer enjoy baking.

Or maybe, this book was part of an estate sale, not unlike the sale that is going on at my childhood home, even as I type this. Perhaps the previous owner had no children who were interested in baking or (dare I hope?) they already had their own copies. Perhaps they were overwhelmed by the sheer volume of cookbooks in their mother's (or father's!) collection.

I can sympathize. I have eight xerox boxes filled with bread cookbooks from my mother's bookcase---there were as many cookie recipe books to sort through as well, most of which ended up in the sale. I took all the bread books home so I could sort through them to determine which ones I might want, which might be used as bread demo door prizes, and which could be donated or even discarded.

I found it moving that many of the books I found were already in my collection because my mom gave them to me for Christmas, my birthday, or "just because." A few of my mom's copies were claimed by my siblings, sometimes after I convinced them of the worthiness of a particular volume. Little by little I'm working my way through the remainder. If you attend any of my upcoming bread demos, most likely you'll get a free raffle ticket for a chance to win one of these treasures.

On one shelf on Mom's bookcase was filled with all of my cookbooks---she usually got the first copy out of the box from the printer. Naturally, I have all the same books on my shelf in the pantry of our abbey kitchen. I've decided to replace all of my copies with hers, and give my own away. They are all inscribed to her, of course, with a personal message. I'm happy to have them as mementos of her and how I loved her--still love her.

I've been thinking a lot about the estate sale. It's heart-wrenching in many ways, and in other ways a great relief. An abundance of gratitude is due to my siblings, who have worked far harder than I have in getting the house cleared out and ready for the onslaught of bargain hunters. We are of course hoping for a good monetary result from the sale, so that we can have the funds for some necessary repair and upkeep for the house before it goes on the market, which is a source of some anxiety.

But I've also been experiencing some anxiety for a different reason: the feeling that the people who run the sale and the ones who come to shop will not value Mom's things for what they are truly worth, or as much as we do. What if a rare cookie cutter goes out for a fraction of its value? Will people realize what that batik fabric costs per yard? Will they know if a dresser is pine or cherry? Like my discomfort at finding my first published cookbook priced for a dollar, my fear is that somehow my mother's memory will not be honored by people picking over her things and haggling over their worth.

In one way, these are all legitimate concerns. We want to receive appropriate value for the estate whenever possible. But I've come to realize that the sale, ultimately, has nothing to do with my mother's legacy. My siblings and I had taken away everything we genuinely wanted, or at least as much as we had room to store. My sister Angela took Grandma Stellie's rocker; my older brother Marty got the grandfather clock and a rug Mama braided out of rummage sale wool coats; I have her bread books, plus a trunk made by my Irish ancestors who took it over the Great Plains on a covered wagon; Eileen wanted the dining room table and the Cookie Lamp (the subject of a future blog, I promise!): Vinny saved another braided rug, plus a doll Mom made for him from a towel that came in a box of laundry detergent. We all got cookie cutters from her collection and favorite Christmas ornaments and baskets she had made, and all the letters and cards she saved. We have no reasons to regret what we left behind.

So how am I to understand the value of what remained? After much reflection I realized the real value of those Longaberger baskets and Belleek China and Waterford crystal, all the vintage cookie cutters, the boxes and boxes of quilting fabric. It is this: they made my mother happy. She loved having the ideal basket to carry homemade cookies to a potluck, was delighted when someone needed a particular color or print of fabric and she could find it in the sewing room closet, took pride in getting out the good china teapot to entertain her quilting friends. All that "stuff" had already shown its genuine value long before the sale, because it gave her pleasure and afforded her opportunities to make other people happy as well. My mother did not value them as "things" so much in themselves as in their usefulness in showing how much she loved her family and friends.

And those memories of how much she loved us, and of the multitude of ways in which she showed it, will endure long after the last box of odds and ends goes home in somebody's trunk.