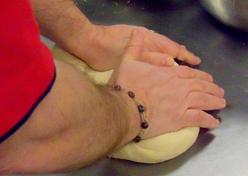 Bread baking, I am beginning to suspect, is keeping me from winning that "Teacher of the Year" award any time soon. I have been trying get a set of test papers graded for the past week, and although I managed to get the matching and true/false corrected (the easy part), the remainder of the tests are still unexamined.
First the problem was sweet potatoes. We had them for supper and there were leftovers, and I think they were out of a can anyway, so who would want them reheated, seriously? I just
happened
to have a recipe for a sweet potato batter bread with pumpkin pie spices and toasted pecans (from season 2 of
Breaking Bread with Father Dominic,
recipe HERE
), so there went my evening. I did a little grading while the bread was cooling, but not enough to really count as a serious effort, which proves that as a teacher I am lazy and selfish. All know this.
Then it was m
ashed potatoes. We had them for supper, and of course there were leftovers, which of course meant I had to make potato bread, since the kitchen staff evidently need a lesson in making fried mashed potatoes for breakfast and/or potato soup for lunch. Nothing extensive--four loaves, enough for a couple of breakfasts. But did I grade papers while they cooled? No---I made chocolate chip oatmeal cookies because my sister Anj happened to mention them when I spoke to her on the phone. Fasting blood sugar the next morning: 176. Hope my doctor is too busy to read food blogs.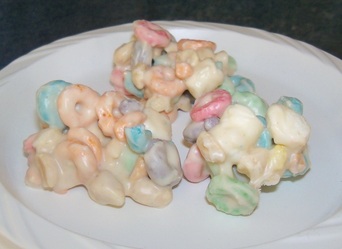 Tonight it was mashed potatoes again (not at supper, we just still had some leftover) plus I had a five pound bag of whole wheat flour set to expire October 13, so I had to make a big batch (1o loaves). Didn't really want to do dishes alone, so I invited some Stage Rats out to help me. But the kitchen was cool and the dough was rising slowly so to pass the time we made Froot Poop (a cereal jumble candy, photo to the right) and more cookies. I had one of the kids pack the candy away before I could eat any, and I only had one cookie. Will probably still need to go on the exercise bike tomorrow, except that I'll probably too busy editing recipes for my next cookbook, or testing a meatball recipe, or trying out the stoneware pizza pan I got at Goodwill for two bucks. In any case, the tests will still be in my filing cabinet, and that "Excellence in Education" trophy will remain elusive.

But great toast awaits for breakfast, so that's something.