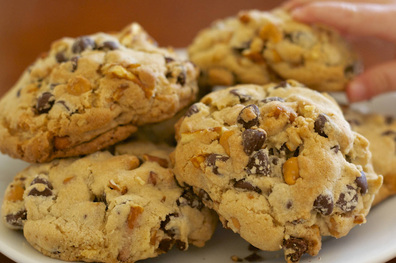 My mom is the Cookie Queen. She makes cookies as easily as other people make toast. She owns over 5,000 cookie cutters (no exaggeration) and several hundred cookie cookbooks. Growing up we had more homemade cookies than any others kids in school, and we still get cookies mailed to us in the months of our respective birthdays.
However, my mom has had some health issues recently and was unable to make cookies for my brother Marty for his September B-day, so I offered to fill in. "Bread Monk" I may be, but I am my mother's son when it comes to cookies! Four dozen chocolate chip cookies got mailed to Texas on Saturday, carefully wrapped just like my mom taught me: you could drop that package out of a plane onto a moving cargo ship and not break a single cookie.
Over the years I have gradually developed a "foundation" cookie recipe, one that you can customize with your own add-ins like chocolate chips, raisins, oatmeal, spices, etc. Here's what I use:
1 cup butter-flavored shortening*
3/4 cup brown sugar
3/4 cup granulated sugar
2 eggs
2 tsp. vanilla
2 cups flour
1 tsp. baking soda
1/2 tsp. salt
*butter-flavored shortening turns out loftier cookies that don't spread out as much.

Cream together shortening and sugars until fluffy (in a stand mixer, start out on low until mixed and then beat on high for a full minute). Add eggs and vanilla and mix well. In a separate bowl, sift together flour, baking soda and salt--add to the mixing bowl and blend until smooth.
From this point, it's all up to you. You can add up to 3 cups of other ingredients:
--1 or 2 cups of chocolate chips
--2 cups of oatmeal and a cup of raisins (1 or 2 tsp. of cinnamon would not be amiss either!)
--a cup of shredded coconut
and a cup of chopped toasted pecans
--a cup of butterscotch chips and a cup of chopped walnuts
--2 cups of M&M minis
--1 cup chocolate chips, 1 cup of peanut butter chips, and a 1/2 cup hand broken pretzel pieces
(I got this last idea from the food blog www.makebetterfood.com, which is also where I got the photo featured at the top. Their recipe is
HERE
.)