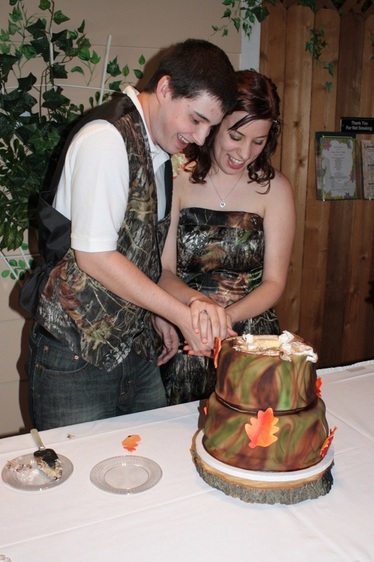 My nephew Jordan got married this weekend in Bluffton IN (south of Fort Wayne), and as they say in the wedding planning biz, their "colors" were "denim" and "mossy oak camo". I know that sounds terribly redneck, but I must say that the bride really rocked the dress. In addition to the camo cake, they also served a chocolate cake with a creamy peanut butter frosting that was outstanding. The bride's grandfather had the ceremony, so I was the wedding photographer for the reception, which actually was a lot of fun.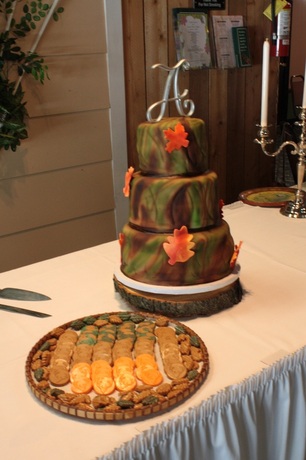 My sister Eileen performed her mother of the groom duties admirably, which she described (cheerfully and without rancor or irony) as "wear beige and shut up." She also assisted with the reception by making some camo candies to accompany the cake. Both the bride and groom work in a pretzel factory, so Eileen topped some pretzel rods with camo-colored almond bark/chocolate. It was quite an impessive display overall, and my photos don't really do it justice.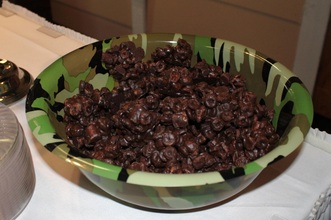 My contribution to the reception was a big bowl of deer poop (I suspect that is a sentence unique in the history of blogging about weddings). It's a favorite snack of the Stage Rats and our summer theatre program, and it's easy to make. The recipe follows.

Deer Poop
2 Pkg. (24 oz.) Wilton's Dark Cocoa Candy Melts
1/4 cup peanut butter
4 cups Cheerios (Dulce de Leche or Honey Nut)
1-1/2 cups of honey roasted peanuts
1-1/2 cups mini-marshmallows

In a large sauce pan, melt candy melts and peanut butter over low heat, stirring constantly until smooth. Remove from heat. Using a wide rubber spatula, gently fold in Cheerios and peanuts until well coated. Allow mixture to cool slightly (5 to 10 minutes) before folding in marshmallows (they should remain whole rather than melting) until everything is evenly coated in chocolate. Drop by tablespoons onto parchment or wax paper. Allow to harden for two hours before storing in an airtight container.