Yesterday my editor and I made the final corrections on the new cookbook--at last! As my friend Vernon used to say about term papers: "I was so glad to put that baby to bed--it's been crying all month long!"
One thing that has consistently amazed me about the editing process: absolutely glaring mistakes you don't catch until the third or fifth or tenth time through the text! Misplaced captions, dangling participles, missing letters, unclear instructions--we still found all of these kinds of things in the final read-through, even though we also had a professional copy editor go through it as well. Imagine being a beginner baker and reading that you should "lace the dough onto a baking sheet."
My chef friend Ron looked the manuscript over for me as well, and he gave it a good review, noting that every time he had a question about some part of the instructions, I would answer it in the next sentence. His mother also gave the book a thumbs-up, but she may have been unduly influenced by the monkey bread I sent home with Ron for me!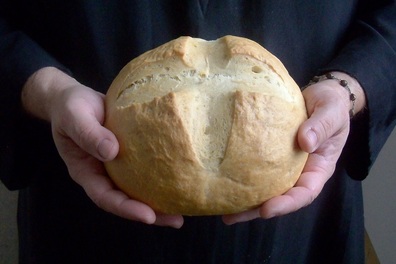 I took most of the photos for the book, or had my students and friends take pictures while I shaped dough. My favorite photo is this one taken by another chef buddy, Jim Behrends. It appears on the back cover of the book. It goes off to the printer on Wednesday, to VersaPress in Easte Peoria (whom I would recommend to anyone looking to get a book printed). The book is being printed with an enclosed wire binding so it will lie flat on the counter top while you are working. Nothing worse than a cookbook that won't stay open while you are trying to read instructions or follow illustrations. I expect to pick them up from the printer by October 1, perhaps sooner.