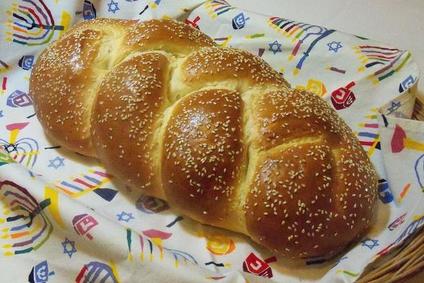 In Junior religion we're studying the Jewish roots of Christianity, and since we were discussing food traqditions I decided to bake some challah as a treat for my classes. I haven't made it in ages and I confess I have forgotten the Hebrew prayer that one recites while taking off a small piece of the dough known as "Elijah's portion." Nonetheless, here's the recipe I used, from Season 1 of "Breaking Bread", although I made sinple three strand braids instead of the more complex braids mentioned in the directions.
CHALLAH
2 envelopes yeast 1/2 cup sugar
1 cup lukewarm water 3 eggs
1 Tbs. sugar 3/4 cup vegetable oil
1 Tbs. salt 1 - 1/2 cups lukewarm water
1 tsp. cinnamon 6 to 7 ½ cups of bread flour
1 Tbs. vanilla 1 beaten egg (to brush the top)
In a small bowl, proof the yeast with the cup of lukewarm water and tablespoon of sugar. Add 2 cups of the flour and let stand for about 30 minutes to allow the yeast to develop. In a large bowl, combine water, oil and eggs and mix well. Stir in the salt, cinnamon, vanilla, and sugar. Add the yeast sponge and mix well. Add the remaining flour, about a cup at a time, until you get slightly firm dough--it will be a bit softer than ordinary bread dough because of the eggs. Knead for about five minutes, and then let rise, covered, until doubled in bulk, about an hour and a half.
Punch down the dough and turn it out onto a lightly floured surface. Knead briefly to work out the larger air pockets. Divide the dough into seven equal pieces and roll each piece into a rope, about 12" long. Braid four of these ropes together, tucking the ends underneath. Place on a lightly greased baking sheet. Braid the remaining three ropes and gently place them on top of the four-rope braid. Cover with a towel and let rise until nearly doubled in bulk--the loaf will be quite large.
Brush all over with the beaten egg and sprinkle with sesame or poppy seed if desired. Bake in preheated oven at 375° until golden brown, about 45 minutes. If your oven doesn't bake evenly, be sure to turn the pan around every 15 minutes or so. Cool on a rack.
Notes
---I've seen many different recipes for challah (there are 57 of them on www.food.com), but I like Marian Honig's version, (found in her excellent book
Breads of the World)
, which I have adapted here. Her addition of small amounts of vanilla and cinnamon make this bread smell heavenly as it's baking. This recipe takes a lot of time and effort, but it's really worth it. --The large braided loaf is the traditional form, but you can make two smaller single braids, or form wreaths.