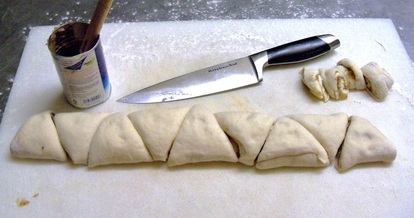 Last night I mixed up a batch of basic sweet dough so I could make two recipes from the new book. I didn't really need to test the recipes, but I needed some photos for illustrations of Breakfast Butterflies and Crescent Rolls. Butterfly rolls used to be found in most bread cookbooks (I think I saw them first in the 1962 edition of The Joy of Cooking). You roll the dough out as you do for cinnamon rolls and then cut the roll into 9 wedges instead of 12 slices (see above). You can use any filling you want--I used a can of Solo Almond Cake and Pastry Filling, but you could use apricot filling or chopped dates and walnuts. The advantage of almond filling is that the rolls are sweet enough without frosting.
(I should note here in passing that the temperature in the kitchen last night was 99.3 degrees F. My sister Eileen says I'm crazy for even considering baking in this weather, but I don't even notice the heat anymore).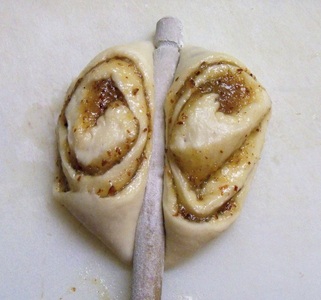 To shape the rolls, you turn each wedge short side up, and press the handle of wooden spoon across each—this pushes the dough outward to form the "wings". There are other "butterfly roll" recipes out there for which you actually form an insect body complete with antennae, but I think they're a bit too fussy.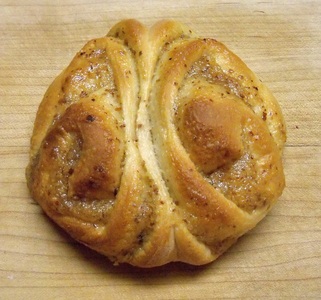 They rise and bake pretty much like any other roll (30 minutes or until doubled, 15 to 20 minutes at 350 degrees). They were a hit with the brethren this morning, and so much so that next time I think I'll make a double batch, maybe with two different fillings. Apricot filling would be good with an orange flavored frosting, for example.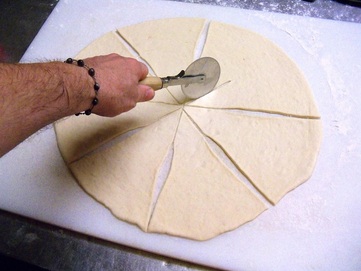 I made the second half of the dough into crescent rolls, which are a snap once you get the hang of rolling dough out into a circle. Sincxe my last book was on pizza, that's one skill I have pretty well mastered! A pizza cutter is useful for cutting the wedges, too--far easier than even the sharpest kitchen knife.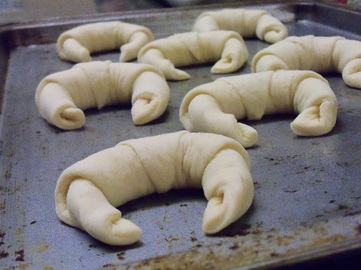 After seeing these pictures, I'm surprised that I've never noticed how much crescent rolls look like crabs! Here they are before the second rise. You'll notice that I don't have brand new shiny pans to bake them on, so don't worry if yours are little stained or battered.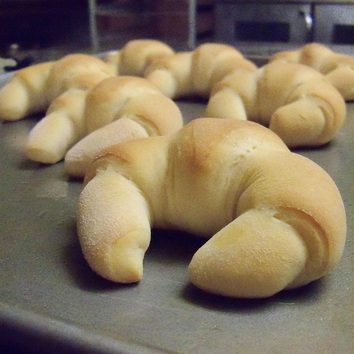 I have to say these are some of the most photogenic rolls I've ever made! I think thse are best serve warm with butter and grape jelly, which is how I ate then when my mom made them for us. These came out of the oven about 10:30 p.m. and I had to stay up until all the rolls had cooled completely before wrapping them, so I was up late. But thereby hangs a rather sad tale.
This whole process took a somewhat longer time than usual, because I kept having to tend to our Fr. Joseph, who is suffering from Alzheimer's. Recently he has been insisting that he is going home to live with his parents in Peoria again (they've been dead for years, and the house he is remembering has been torn down). At least once a day he packs a suitcase or two, or drags boxes to the loading dock, convinced that someone will be coming to pick him up soon. We've had to hide his luggage, because the visual cue of seeing it in his room triggers the obessesion, and we can no longer keep car keys in plain sight for fear he may try to drive himself to Peoria.
Sometimes it's difficult to divert him from this train of thought, and last night he was particularly determined. It was obvious that he was exhausted, which made him more irritable, like a cranky toddler who needs a nap. Three times he was out of his room and looking for someone to help him find a car, all within the same half hour, and he lost his temper the third time. "Why do I have to put up with this shit?" he shouted at me in the hallway. "Why can't you just take me someplace where there are old things that I understand?!"
But sadly, no such place exists anymore, except in his memory. Because of his condition, very little makes sense to him anymore, and so he's surrounded by confusion and frustration---no wonder he loses his temper. I finally commented sympathetically on how tired he looked, and he responded to the cue, saying that maybe he should just go to bed and not leave until tomorrow. I helped him to his room and he thanked me for my kindness, all rancor forgotten: "Good night, dear Father," he said, as I closed the door.
By the time I got to the dough, it was a bit over-risen in the first proof, but bread is forgiving, and caring for my confrere is far more inportant than picture perfect rolls. Like any family coping with an elderly parent or a special needs child, the monastic community is learning once again to do as St. Benedict urges us in his chapter on good zeal: "Bear with the greatest patience one another's weaknesses of body and behavior."