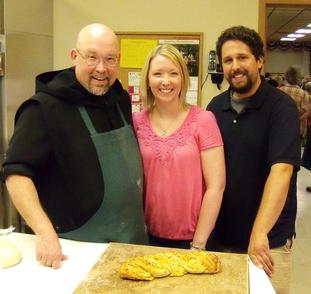 One of the best aspects of traveling around doing bread demos is that you meet lots of happy bakers who want to share recipes--and occasional samples! This couple attended a special class I taught for KETC/Channel 9 in St. Louis a couple years ago, and they showed up in Smithton as well, bearing a scrumptious cheese twist bread. Rachel was kind enough to share the recipe with me, and I pass it on to you with the highest recommendation. You can change the kind of cheese you use for the filling or use a blend.
CHEESY TWIST BREAD
Dough -
2 packages active dry yeast
1 cup warm water
3 to 3 ½ cups unbleached all-purpose flour
1 teaspoon salt
2 tablespoons sugar
1 teaspoon onion powder
3 tablespoons oil
1 teaspoon dried basil
1 teaspoon chopped sun-dried tomatoes in olive oil
Filling-
4 ounces soft cream cheese
2 tablespoons dry ranch salad dressing powder
¼ cup chopped onions
3 tablespoons chopped sun-dried tomatoes in olive oil
¾ cup shredded parmesan cheese

Stir yeast into warm water and let set a few minutes to dissolve. Attach flat beater to mixer. In bowl of stand mixer add 2 cups of flour, sugar, salt, onion powder, basil, and sun-dried tomatoes. Turn on stir speed to combine. Add the water and yeast mixture. Turn on speed # 4 for about 1 minute and beat. Turn mixer speed down to 2 and add oil. Continue to add the remainder of the flour a little at a time until the dough starts to clean the sides of the bowl and cling to the paddle. Switch to dough hook and turn mixer on speed # 2 only and kneed for 4 to 6 minutes until dough is soft and elastic and tacky to the touch. Take the dough out of bowl and knead into a ball. Cover and let rest for about 5 minutes. Roll dough out on a lightly floured surface into a 14x10 rectangle, spread with filling, sprinkle with ¾ cup of cheese over filling. Starting from the long side, roll dough up tightly, with scissors cut roll in half, lengthwise. Place halves, filling side up, side by side on parchment lined baking sheet. Twist together gently and loosely. Cover and let rise for 20 minutes. Uncover and bake in a preheated 375 degree oven for about 25 minutes. Take out of oven and brush with butter. Put on a cooling rack to cool for about 15 to 20 minutes.