I had meant to get back to the blog a lot sooner after my return from St. Louis, but shortly thereafter I developed some serious adominal pains and spent three days in the hospital. Still no diagnosis, symptoms have subsided considerably but still pesist. They have ruled out appendicitis, colon cancer, gall bladder, kidney stones, ulcers, and pregnancy. Please keep me in your prayers.
But enough about that. While I was in St. Louis I was privileged to teach an afternoon class to the advanced pastry students at L'Ecole Culinaire (website
here
) on Monday. We took a basic roll dough and made slab braids, bambino bread, and rose rolls. The students were enthusiastic and made some lovely breads, although some of them need to work on their rolling pin technique--a perennial struggle!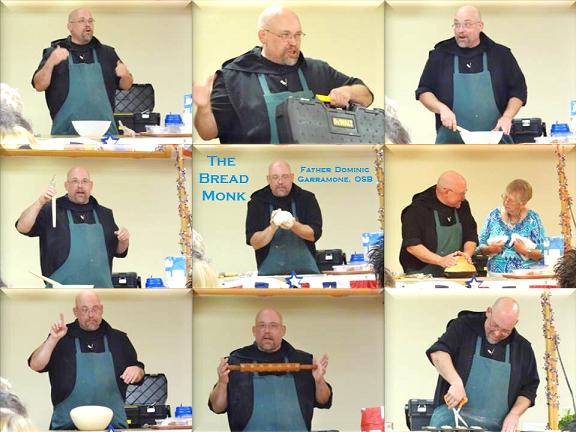 Tuesday night I was in Smithton, Illinois for an herb bread demo sponsored by the Metro East Herb Guild in Belleville. For that presentation I made bacon dill bread, herbal rose rolls, and tomato basil focaccia. I had hoped to give you links to those recipes, but I'm having trouble logging on to Google Docs, so I'll just post them here.
Bacon Dill Bread
½ cup warm water (100 to 110 degrees)
2 tsp. brown sugar
2 pkg. active dry yeast
1 c. milk
1 c. cottage cheese
2 Tbs. fresh chopped dill (1 Tbs. dried)
1½ tsp. salt
2/3 cup cooked, crumbled bacon, drained (about 14 to 16 strips)
5 to 6 cups of all-purpose flour
Proof yeast with water and sugar in a small bowl. Blend milk and cottage cheese in a blender until smooth and warm mixture to 100 to 110 degrees. Pour milk mixture into a large bowl and add yeast, dill and salt. Stir in 2 cups of flour until thoroughly incorporated. Add bacon and mix thoroughly. Add 3 more cups of flour, one cup at a time, mixing thoroughly each time. Turn dough out onto a lightly floured board and knead for 6 to 8 minutes, adding small amounts of flour as needed to keep dough manageable. At the end of the kneading period, dough should be rather soft rather than stiff, but only slightly sticky. Oil the surface of the dough and place back in the rinsed bowl. Cover with a towel and allow to rise in a warm place free of drafts for 45 to 60 minutes, or until doubled. Punch dough down and knead briefly to work out the larger air bubbles. Dough may be formed into one large or two medium free form loaves and placed on a lightly greased baking sheet, or divided into two and placed in standard loaf pans. (if you make free form loaves, they may not rise as high as in a pan.) Cover and let rise for 20 to 30 minutes or until nearly doubled. Bake in a preheated 350 degree oven for 40 to 50 minutes, until lightly brown and loaf sounds hollow when tapped. Cool on racks.
(Don't have a picure of this yet.)

Tomato Basil Focaccia
Dough
2 cups tomato juice
1 pkg. active dry yeast
2 tsp. salt
1/4 cup chopped sun dried tomatoes
1 cup whole-wheat flour
2 Tbs. olive oil
4 to 4 ½ cups white bread flour
2 Tbs. finely chopped fresh basil
OR 1 Tbs. dried whole basil leaves
OR 2 tsp. ground dried basil

Topping
olive oil
kosher salt

Scald tomato juice in a saucepan over low heat, but do not allow to boil. Add the sun dried tomatoes and cool to lukewarm. Pour into a mixing bowl. Stir in yeast and 1 cup of whole wheat flour and allow to rest for ten minutes. Add olive oil and salt and mix well, about 100 strokes by hand. Add flour, one cup at a time, until you get a soft dough that is rather sticky. Knead on a lightly floured board for about 5 minutes, until the dough is smooth and elastic but still a bit sticky (be careful not to add too much flour in the course of kneading). Give the mixing bowl a quick wash, oil the surface of the dough lightly and place it in the bowl. Let rise, covered with a towel, in a warm place free from drafts, until doubled---about 1 to 1 ½ hours. Punch down, and divide into two portions. Flatten each portion into a round, flat loaf, about ½ inch thick. Place loaves on a baking sheet that has been sprinkled with cornmeal (you may need 2 sheets). Brush on about 1 Tbs. of olive oil on each loaf. Allow to rise, uncovered, for 30 minutes. Dimple dough with your forefinger, each dimple being about ½ inch apart. Brush top with olive oil and sprinkle lightly with kosher salt. Bake at 400 degrees until lightly browned, about 20 minutes. Remove from oven and cool loaves for 10 minutes before serving.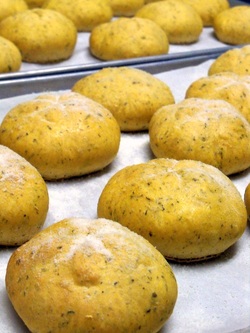 I often make tomato basil kaiser rolls topped with parmesan for sandwiches or to accompany pasta with cream sauces, but you can also bake this bread into a regular loaf pan and use it to make the best grilled cheese sandwich ever!
Rose Rolls
Use any recipe for one dozen dinner rolls, preferably one that uses milk as the liquid.

On a lightly floured board, roll dough out into a rectangle 12" high by 15" wide. Brush the dough with the melted butter, leaving 1 inch of the top edge dry. Sprinkle on about 1/2 cup of fresh chopped herbs. Roll the dough up jellyroll style. Lightly brush the top edge with a little water, so it will stick to the roll; pinch to seal. Using a sharp knife cut the roll into 12 even pieces. Cut side down, place them one by one into the cups of a lightly greased muffin tin. Using a pair of scissors cut an "X" in the top of each roll---you should cut about 2/3 of the way through the roll. Cover and let rise in a warm place until doubled, 30 to 45 minutes. Bake in the preheated 375 degree oven for 10 to 12 minutes, or until lightly browned. Remove from pans and place on wire racks to cool slightly. If desired, brush tops of rolls with more melted butter before serving warm.