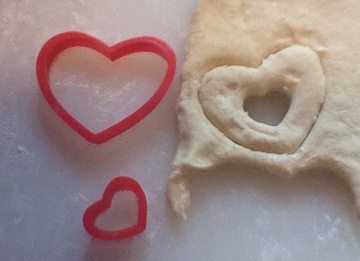 Make no mistake--donuts are NOT a "heart-healthy" food. But me no buts about baked donuts or multigrain batters or paleo flours. Donuts made with reduced fat and alternative grains can be delicious, but they simply can't compare with a fresh, warm, glistening Krispy Kreme, cooked in hot oil and drenched in powdered sugar glaze.
As I diabetic, I have to be careful around donuts---I'd probably pass up chocolate cake for a day-old long john---so I don't make them often. But Friday, June 5 2015 is National Donut Day, so I stayed up late Thursday night to make some Spudnuts.
(According to
the Nibble
, National Donut Day is celebrated the first Friday of June.
The holiday was created in 1938 by the Salvation Army, to honor the women who served donuts to servicemen in World War I. June 8 is Jelly-filled Donut Day, Cinnamon Roll Day is October 4. OK, back to Spudnuts).
Spudnuts was a national chain of franchised donut shops started by the Pelton brothers in Salt Lake City in 1940. Their proprietary donut mix used potato flour for added softness and flavor (this ingredient had just become commercially available---before that fresh mashed potatoes were needed). In 1964 when the brothers sold the company,. there were 314 franchises nationwide.
Wikipedia can tell you more
HERE
. There still individual shops around, sometimes with a recipe adapted from the original. Naturally there is a website for Spudnuts fans which includes a list of existing shops by state.
I've had a Spudnuts recipe in a three ring research binder since about 1999, but there are about a half dozen recipes online, all of them slightly different, one of them
really
different: the one offered by
Saveur
magazine uses ground mace, cracked black pepper, and lemon zest. Looking all these recipes over, most of them bear a striking resemblance to my
Best Ever Crescent Roll Dough
. So that's what I use for my yeasted donuts, except that I use only 1/2 cup of mashed potato.
Some other tips about donuts:
1) Don't over knead or over work the dough, or the donuts will be tough and not tender. After the first rise, don't punch the dough down too hard and never knead it a second time. Deflate it gently and roll it out to about 3/4", using a minimum of flour on the board.
2) Don't twist the cutter, which can seal the edges of the donut and keep it from rising properly. Just press down firmly.
3) Let your donuts rise the second time on individual sheets of waxed paper or parchment. It makes it simpler to ease them gently into the hot oil.
4). The oil should be 375 degrees F. Use a candy thermometer clipped on the side of a deep skillet, or an electric fryer with a thermostat.
5) Don't crowd the pan---3 or 4 donuts at a time, and let the oil reheat between batches.
6) Wait until donuts are almost completely cool before glazing or frosting. And no, I don't really have a glaze recipe, because I never measure anything for it. If you're reading this, you can obviously Google it! Alton Brown has a good one
HERE
.
Sound like a lot of fussy work? Perhaps these photos will help convince you: