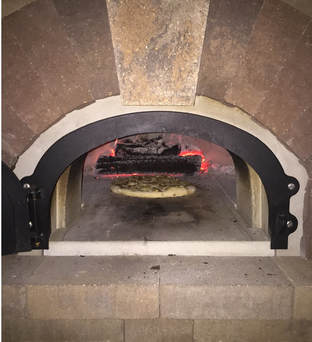 It has been so long since I posted that I feel I should apologize to my loyal Breadheads! I'm not sure what has kept me from blogging, but I suspect that at least part of the reason is that I haven't done much of anything new lately. I've bake a lot of potato rolls and made a few waffles, baked cookies once or twice. But no new recipes, nothing exciting---until this past weekend, when I finally had the chance to make pizza in an authentic wood-fired oven. To a pizza lover like me, that's like getting free play-off tickets!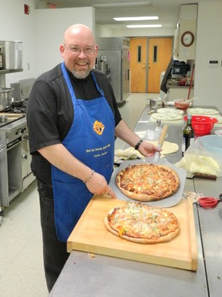 I often am assigned to hear confessions and celebrate Mass at a parish about 45 minutes from the abbey, Immaculate Conception Church in Morris IL. Every year they have an Oktoberfest auction (a fundraiser for their grade school) and for a few years now I have offered "Baking Lessons with the Bread Monk" as an item up for bid. (I have no idea how much money it generates.) I had done a pizza fundraiser at the parish on behalf of the Knights of Columbus, so my dough tossing skills were well known. As a result a couple of years ago I was asked by the auction winners to have a pizza night in their home. I brought all my stones, pans and peels, along with a Mason jar of my own
sauce
, homemade sweet hot
Italian sausage
, and a double batch of
pizza dough
. We had a big crowd of family and friends enjoying some excellent pizza. In fact the the evening was such a success that the family had a wood fired pizza oven installed on their patio!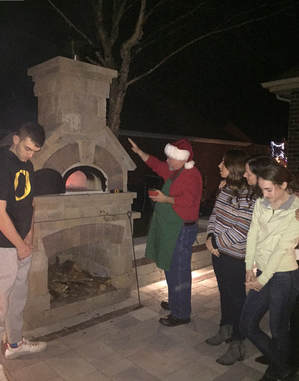 I got an invitation to bless the oven and bake in it, and let me tell you I was excited! I've been reading about wood-fired ovens for years and have high hopes to put one in at the abbey eventually. When I arrived with my supplies, Greg had had a fire going for several hours, so the interior temperature of the oven was just under 800 degrees, perfect for making thin crust, Italian-style pizza. I used a very simple dough recipe---flour, water, yeast and salt---kept the toppings to a minimum as well. One appetizer pizza was simply
mornay
sauce, sun dried tomatoes, and sliced almonds, the other a
bruschetta topping
with diced tomatoes, onion, kalamata olives and some grated cheese. Later on we enjoyed a meat lovers' (lots of teenage boys around!), a
Four Cheese Tomato Top
(a perennial favorite), and a supreme pizza that developed some lovely light char around the edges of a thicker crust.
I knew in theory that pizzas in a wood-fired oven bake more quickly and need to be rotated more often, but in practice there was a bit of a learning curve! But I'm feeling a bit more confident and the next time I think I can avoid a burnt crust like this one on the bruschetta pizza. A little hint: in the winter when tomatoes are from the hothouse rather than the garden, a splash of balsamic vinegar can brighten up the flavor.
Started on your New Year's resolutions yet? "Make more pizzas in a wood fired oven" is definitely at the top of my list for 2018!