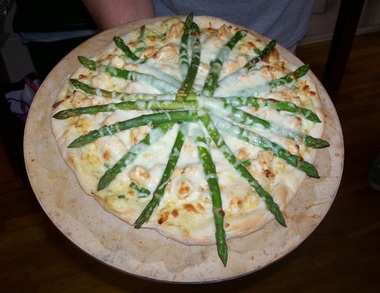 It's still National Pizza Month, so I thought I'd share my recipe for mornay sauce for pizza. It's a little thicker than the sauce you might use for vegetables, and is a great alternative to tomato-based sauces. I use it for this asparagus and ham pizza, but it also goes great with broccoli and chicken, any veggie pizza, or even sun-dried tomatoes and slivered almonds on a thin crust as an appetizer pizza.
Mornay Sauce
1 cup milk
1 quarter of a small red onion
1 bay leaf
2 Tbs. butter
2 Tbs. all-purpose flour
¼ cup grated Parmesan cheese
¼ cup shredded white cheddar
salt and pepper to taste

Place milk, onion and bay leaf in a small pan over medium heat; simmer for 10 minutes but do not boil. Remove from heat and discard onion and bay leaf. In a separate small sauce pan, melt butter over medium heat. Add flour and whisk until smooth. Cook until a light tan color, whisking constantly—about 2 minutes. Gradually add the milk and continue to whisk over medium high heat until mixture is thickened and coats the back of a spoon, about 4 minutes. Remove from heat and whisk in cheese until smooth. Add salt and pepper to taste.

Notes:
---Mornay sauce is traditionally made with Parmesan and Gruyère cheeses, but I find that Gruyère is expensive and often hard to come by, so I use a white cheddar. Swiss cheese can also be substituted. White pepper is generally preferred for a white sauce such as this one, but use whatever you have at home. A pinch of paprika is a nice addition, too.
---You'll only need about half of this sauce to make a 12" to 14" pizza, but the remainder can be refrigerated and used to dress up your boring microwaved vegetables for lunch at work. When used the next day it may need a little milk or half and half to thin it. Or use the whole batch to make a rather elegant mac-and-cheese. When asked about it, you can shrug and say, "Oh, it's just a little Mornay sauce I whipped up last night." Try not to sound too smug.