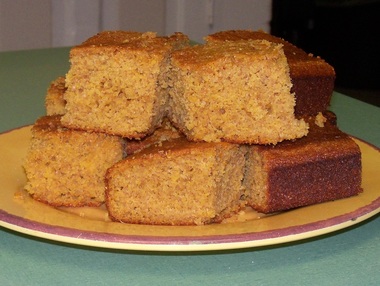 My friend and fellow blogger Kimberly and her husband are trying to eat as little processed food as possible for the month of October. She's posting some amazing recipes on her website
(click
HERE
to check it out
), and she's inspired me to bake more whole grain breads these days. I have a five gallon bucket worth of wheat kernels that I can grind fresh for bread, so I should be using it, right?
First off, Molasses Wheat Cornbread (above). I developed this recipe with some students years ago and never published it. It has no white flour at all, and the molasses gives it an earthy taste that most people have loved. It you're not a fan of molasses, you can use barley malt syrup or raw honey instead. Click HERE to get the recipe.
I also made a big batch of multi-grain bread today (14 loaves). I just made the recipe up as I went along, so I can't give you any proportions, but Anna's Honey Wheat Bread would come pretty close. I recently read, however, that you shouldn't knead dough made with stone ground flours for as long, because the edges of the bran cut the strands of gluten. I had always heard that you had to knead them longer. Tried the shorter kneading time and I think I got loftier, lighter loaves. Stay tuned for more experimentation.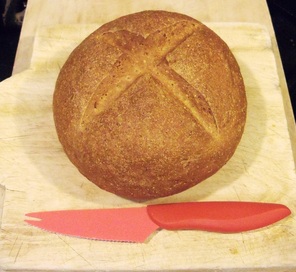 I also read online recently that a tomato knife does a fine job of slashing loaves before baking. Tried it on the big bake tonight and I have to say I'm very pleased with the results. The photo below shows the results of the bake, although two loaves had already disappeared! I think a wavy-blade sandwich knife would work well, too, so I'll have to experiment with that soon, too.