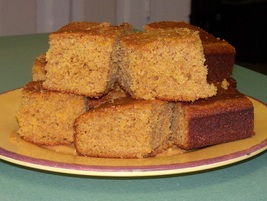 This recipe was never featured on Breaking Bread with Father Dominic. I just developed it one weekend with some of my students when we were trying to develop more whole grain recipes. The result was this earthy quick bread. If you like the flavor of molasses, you'll love this cornbread. Eaten by itself, it tastes remarkably like breakfast cereal. Add a touch of butter and a smattering of orange marmalade, and you'll be amazed at its transformation into an elegant breakfast treat.


Molasses Corn Bread
1 cup whole wheat flour
1 cup corn meal
1 Tbs. baking powder
½ tsp. salt
1 ½ cups milk
2 eggs
¼ cup (1/2 stick) butter, melted
¼ cup light unsulfured molasses

Preheat oven to 400 degrees F.
In the medium size bowl, combine flour, corn meal, baking powder and salt; stir to mix. In a separate container, beat eggs and milk together. Add melted butter and molasses and whisk until blended. Add milk mixture to dry ingredients and beat until smooth. Pour batter into a lightly greased 9 x 9-inch baking pan. Bake for 35 minutes or until lightly browned and slightly firm on top.


---