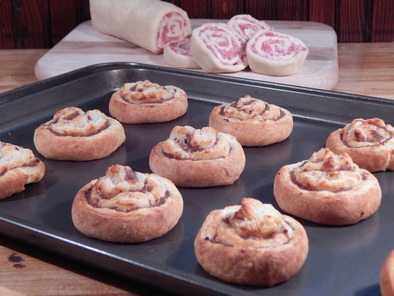 For family potlucks, my mother often makes sausage roll-ups. These savory appetizers are a snap to make, and much of the prep can even take place the night before, so having them for breakfast or brunch isn't much of a chore. They can be made with any kind of bulk sausage: garlic, sweet hot Italian, maple, sage and onion, etc.
We're fairly certain my mom got the recipe from Pillsbury, since it uses their crescent rolls in a tube. My friend Julie refers to their biscuits as "whomp biscuits", since you peel the label off the tube and "whomp!" it on the edge of the table. You can certainly try that if you want, but allow me to say this: you can make exquisite homemade biscuit dough with far less fuss and get a much better result. Besides, as adorable as he is, Poppin' Fresh creeps me out a little. I just don't like to see my food animated. And we're almost the same age but he's virtually unchanged in appearance, which makes me wonder about all those preservatives.
So we're going to start with a basic biscuit dough. I say "basic" but what I'm really referring to is
BISCUITS OF VICTORY!
For many years I was unable to make a decent biscuit, but I finally found and adapted a recipe that worked for me every time. Hence, the epic name, which must be pronounced in a heroic voice like the voice over on Super Friends. The recipe for the dough is
HERE
, directions for the roll-ups are below.
Sausage Roll-Ups
One batch of Biscuit Dough
1 pound of bulk sausage, uncooked

Prepare biscuit dough. On a well-floured surface, roll dough out to 15" x 24". Crumble sausage and spread evenly over dough (an offset spatula helps). Starting from the long side, roll up jellyroll style. Cut roll in half crosswise with a sharp knife. Wrap each half in waxed paper or parchment and again in plastic wrap. Refrigerate for one hour or overnight.

Preheat oven to 425° F. Lightly grease two 9 x 13-inch baking sheets. Remove wrapping from dough and cut into 1" slices. Place rolls cut side down on baking sheets and space them evenly. Bake for 12 to 15 minutes until sausage is cooked and rolls are golden brown on the edges. Serve warm.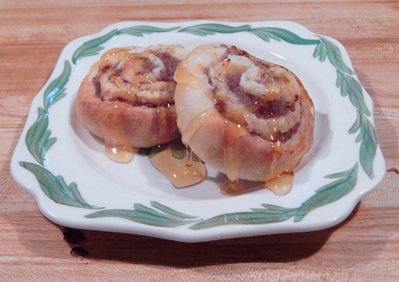 I like to eat mine drizzled with honey or maple syrup, but for something a bit more savory, sprinkle the tops with finely shredded asiago cheese or a mixture of mozzarella and Parmesan as they emerge hot from the oven. You can make the jellyroll and slice immediately, but they are harder to slice that way and tend to spread out more when baking. But either way they are delicious and will disappear quickly from your buffet table. I've also had success baking them the night before and reheating the next day. Just let them cool completely on the pans, cover the pans with aluminum foil and refrigerate. Reheat the next morning, covered, at 375° F. for five minutes, then uncovered for another five to seven minutes until heated through.

One last comment: these are not a heart healthy bread! The dough is loaded with butter and sausage of course can be laden with fat, salt and calories. That's why my family only served these once or twice a year. But my oh my are they good!

God bless and happy baking!