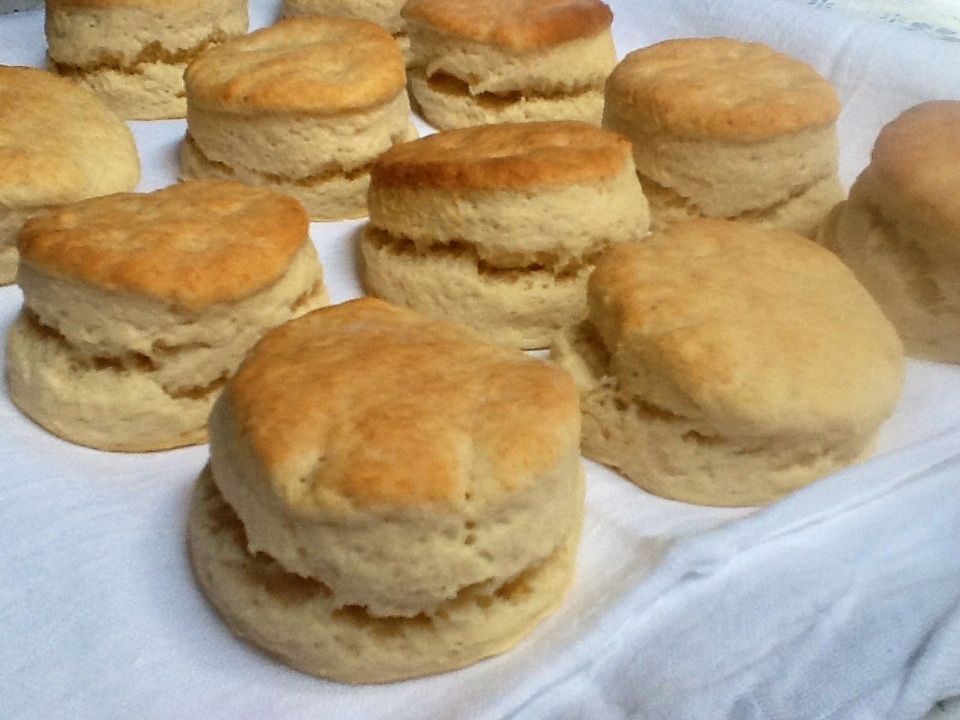 Biscuits of Victory!
3 cups all-purpose flour
4 teaspoons baking powder
1 tablespoon sugar
½ teaspoon cream of tartar
½ teaspoon of salt
¾ cup of cold butter (1½ sticks) cut into pieces
1 egg
1 cup of milk

Preheat oven to 425° F. In a medium-size bowl, combine flour, baking powder, sugar, cream of tartar, and salt; whisk until blended. Cut in butter with a pastry blender or two knives until the mixture resembles coarse crumbs. Beat egg and milk together and stir into flour mixture until just moistened. Turn dough out onto a lightly floured surface and knead about 10 strokes—do not overwork the dough or the biscuits will be tough.

Roll out to 1" thickness. Cut with a floured 2-1/2" biscuit cutter; push scraps together and gently reroll to cut out more. Place rounds, evenly spaced, on a lightly greased baking sheet. Bake at 425° F. for 12 to 15 minutes or until golden brown. Remove from pan and cool briefly on a wire rack before serving warm. Makes about a dozen.

Notes
--It is absolutely essential that you have a sharp biscuit cutter, for the act of cutting out the biscuit will seal the edges and they won't rise or be as flaky. Cut straight down and don't twist the cutter for the same reason.
--It's important to turn on the oven before you get started. This dough goes together quickly and doesn't require rising before baking, so get that oven hot so you can pop them in as soon as they're on the pan. You can have a batch of biscuits made in about 30 minutes.