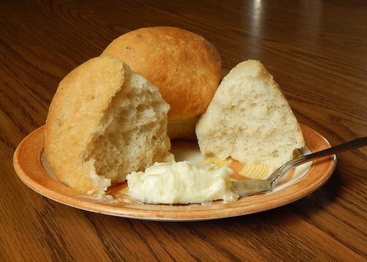 Most Breadheads know that my favorite dough for any kind of roll or bun is my
Best Ever Crescent Roll Dough
recipe. The added potatoes make for a soft roll with a tender crumb, and is the secret ingredient in almost all of the recipes for state fair and 4-H blue ribbon winners. Today I made some delicious herb rolls to accompany grilled pork chops for Labor Day, using some leftover parsley potatoes that were in chunks, not mashed. To get perfectly smooth potato for the dough I used a ricer.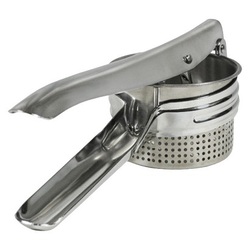 Perhaps not everyone is familiar with this rather old-fashioned kitchen gadget, but there's nothing better for producing light, fluffy mashed potatoes. The cooked, peeled potato pieces go into the hopper, and the two handles are pressed together, like a giant garlic press. The process of extrusion forces air into the potato puree, resulting in lighter, fluffier mashed potatoes that are perfectly smooth, and therefore ideal for bread making. There are commercial versions with a slightly different design, some of which cost as much as $130, but you can get the model pictured here, which is the same one I use, for less that $15 at Target.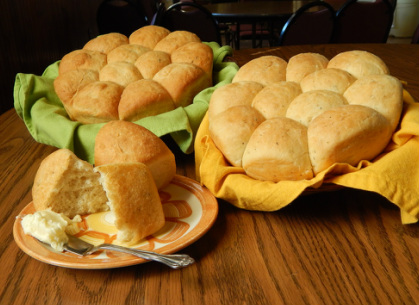 I baked the rolls in round, glass casserole dishes. I like using round pans for dinner rolls, because they look so pretty in a basket on the table. A 1.5 quart casserole dish will hold a dozen rolls made with 2 ounces of dough each. For a 2-quart dish, you can make the rolls 2.5 ounces each. Any leftover dough can be baked in a loaf pan. Remember that when using glass dishes for baking, reduce the temperature by 25 degrees F., because glass heats up faster and retains heat longer.