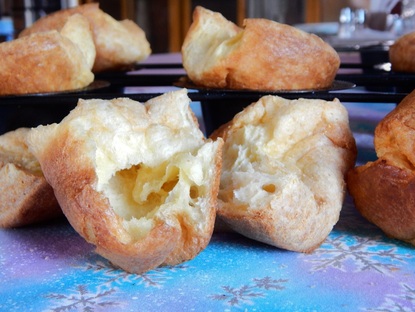 Popovers are making a comeback these days. I first learned about popovers years ago from a delightful Irish lady named Kate, who was working as the housekeeper at a parish where I was substituting one weekend. She served me fresh popovers at supper, and I became an instant fan. I asked her for her secret, and she confided in a near whisper: "You have to bring the ingredients to room temperature before you mix a thing, or they just won't pop." She wrote down her exact recipe for me, which I have since lost (oh, Mona!) but her advice remains with me as the key to perfect popovers.
Popovers are versatile breads, and are delicious in any number of ways. Among my studio interns from season three, Keith slathers his with butter and honey, David prefers his with grape jelly, and Chris cuts off the top and fills it with chocolate pudding. They can be served hot filled with shrimp in a garlic cream sauce, or cold with herbed cheese spread. The recipe is below, or you can find a printer-friendly version
HERE
.
Popovers
1 cup milk or buttermilk
2 eggs
1 Tbs. melted butter
1 cup all-purpose flour
½ tsp. salt
6 small pieces of butter (about ½ tsp. each)

Bring all ingredients to room temperature. Preheat oven to 425 degrees F. In a 1 quart bowl, mix together flour and salt. In a separate bowl, beat together milk, eggs and melted butter. Gradually pour egg mixture into dry ingredients, stirring constantly. Beat until smooth (I like to use a small whisk) and set aside. Place a small piece of butter in the bottom of each popover section. Place in oven until butter is bubbling, about one minute. Remove pan from oven and divide batter between the six sections of the pan (about 2/3 cup in each). Bake for 20 minutes (don't open the oven to peek or the popovers will fall), then lower the temperature to 325 degrees F. and bake for another 10 minutes. Remove from oven and prick the top of each popover with a fork a couple of times. Bake for another 5 minutes—popovers will be golden brown and rather firm on top. Remove from oven and allow to cool in the pan for about 10 minutes before removing popovers. Serve warm with butter and honey.