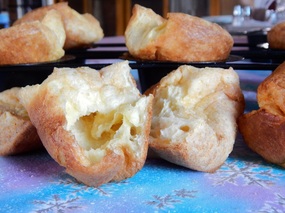 Popovers
1 cup milk or buttermilk
2 eggs
1 Tbs. melted butter
1 cup all-purpose flour
½ tsp. salt
6 small pieces of butter (about ½ tsp. each)

Bring all ingredients to room temperature. Preheat oven to 425 degrees F. In a 1 quart bowl, mix together flour and salt. In a separate bowl, beat together milk, eggs and melted butter. Gradually pour egg mixture into dry ingredients, stirring constantly. Beat until smooth (I like to use a small whisk) and set aside. Place a small piece of butter in the bottom of each popover section. Place in oven until butter is bubbling, about one minute. Remove pan from oven and divide batter between the six sections of the pan (about 2/3 cup in each). Bake for 20 minutes (don't open the oven to peek or the popovers will fall), then lower the temperature to 325 degrees F. and bake for another 10 minutes. Remove from oven and prick the top of each popover with a fork a couple of times. Bake for another 5 minutes—popovers will be golden brown and rather firm on top. Remove from oven and allow to cool in the pan for about 10 minutes before removing popovers. Serve warm with butter and honey.


---