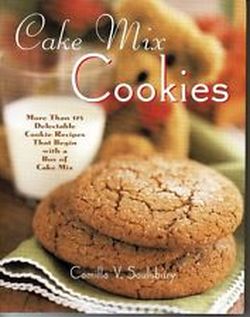 Although my mother made just about everything else from scratch, she was not above using cake mixes. Among the cookbooks in her collection, I found one titled:
Cake Mix Cookies
by Camilla V. Saulsbury. I might not have noticed it among the hundreds of titles had it not been for a small Post-It note bookmarking a particular page, where I found a recipe for Pecan Pie Bars.
A moment of silent reverence, please.
Mom made these for some occasion---birthday, potluck, Christmas---or maybe just because she liked the look of the recipe and she loved pecans. But I must have come home for a visit at just the right time, because I remember eating one at my customary spot at the dining room table with a cup of Irish Afternoon tea and relishing every crumb. If you like pecan pie but don't like messing with a pie crust, this is the recipe for you. The crust is made with cake mix, butter and an egg---simple!---and the filling mixes up in a jiffy.
I made a batch, along with some
Cowboy Cookies
, to take with me to Peoria Notre Dame High School's Production of
The Man Who Came to Dinner.
I was doing a review/talk back with the cast after the show and decided I should bring post-show treats. The show's director was Kathy Svoboda, a dear friend with whom I have a long standing joke about caramel pecan rolls. But I didn't have enough time to make a yeasted dough, so these pecan pie bars were the perfect recipe for the situation. The students were surprised and delighted when I brought out the treats and both the cookies and the pecan pie bars were devoured in short order. I might add that their show was selected for performance at the Illinois Hig School Theatre Festival in January.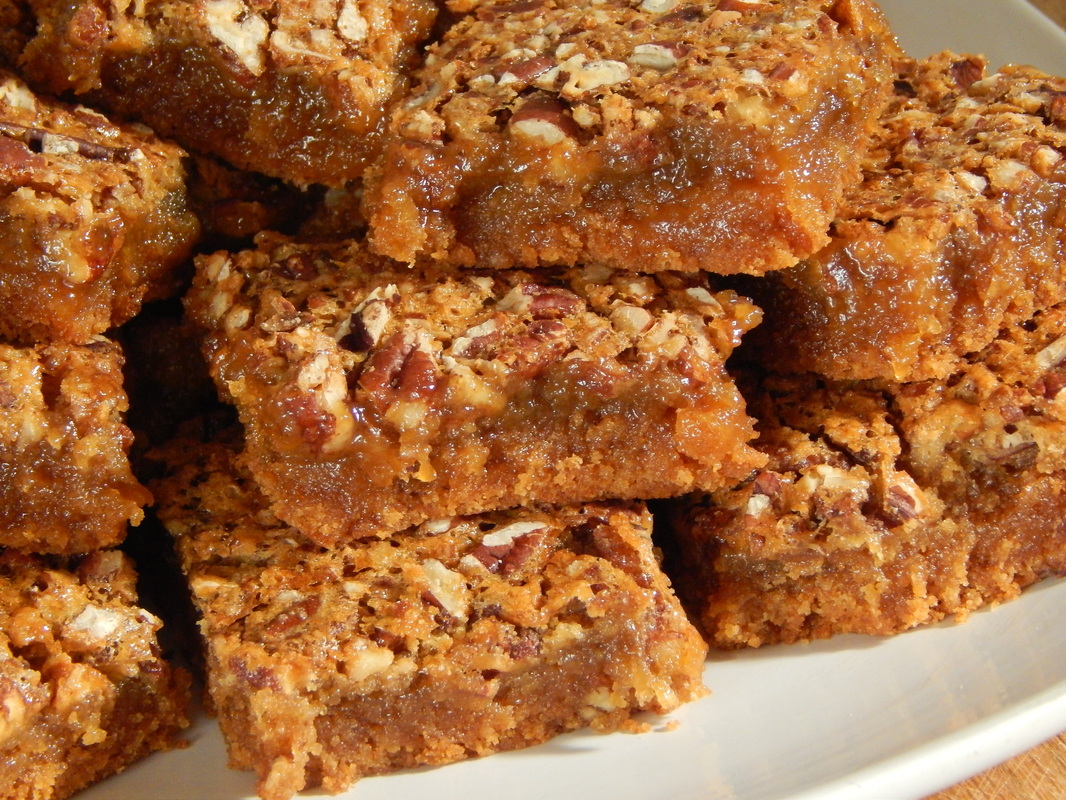 It was satisfying to see my efforts so greatly appreciated, but something else occurred to me on the drive home. I had honored my mother's memory by baking two of her favorite recipes, but even more so by sharing them unexpectedly, by bringing treats when I didn't have to, by doing what she so often did: making other people happy by a random act of kindness in the form of a plastic container full of home-baked goodies. I hope the students were paying attention, and will come to do the same.

I'm sharing the recipe for these bars (slightly adapted) in the hopes that it will entice you to buy the book---it's a keeper!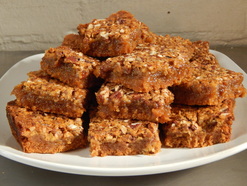 Pecan Pie Bars
adapted from Cake Mix Cookies
by Camilla V. Saulsbury


1 (18.25-ounce) package yellow cake mix
5 Tbs. butter, softened
4 large eggs
½ cup firmly packed brown sugar
1½ cups dark corn syrup
1½ teaspoons vanilla extract
1¼ cups chopped pecans, divided

Preheat oven to 350° F. (or 325° for dark-coated metal pans). Position oven rack in middle of oven. Spray a 9 x 13-inch metal baking pan with non-stick cooking spray (you can also line the pan with foil or parchment).
Set aside ⅔ cup of the dry cake mix. Combine the remaining cake mix, butter and 1 of the eggs with an electric mixture at medium speed until blended and crumbly. Press mixture in the bottom of the prepared pan and bake 15 minutes.
Meanwhile, in a large bowl combine reserved ⅔ cup cake mix, brown sugar, corn syrup, vanilla extract, and remaining three eggs and mix until well blended. Stir in ¾ cup of chopped pecans. Pour mixture over hot crust. Sprinkle on remaining pecans.
Bake an additional 30-35 minutes or until filling is set. Transfer to a wire rack and cool completely. Cut into bars.